Lottery24 – Play the Lottery online, safely and securely
Don't Fall for a Lottery Scam – What to look out for and how to avoid them
The dream of winning the lottery is something that we have all thought of. Have you imagined how you'll spend your winnings? Read stories on others who have won and wished you were them?
However, there are some people out there who try to use the dream of winning the lottery to scam people out of money. These lottery scams aim to divert hopeful players away from genuine games.
Here are some of the most common Lottery scams:
Social media scams
Social media, such as Facebook, is increasingly being used by lottery fraudsters.
The fraudster will message you directly from an account with the same name as a recent Lottery winner. They'll then claim that they want to share their new-found fortune with you.
There's just one catch, they need you to send them money first. They then promise to refund the donation and more.
Of course, no money will ever be returned to you.
A recent Powerball scam used this exact method to try and defraud people on Facebook.
Remember that you should never send money to someone in order to receive money back.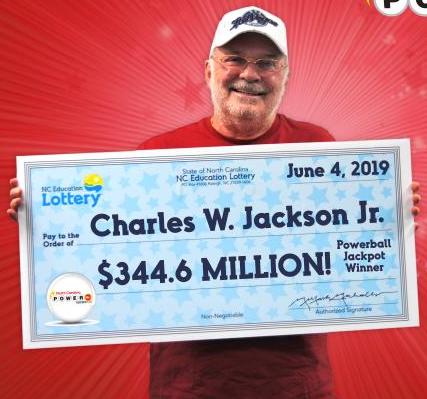 Email scams
Email scams have been around for almost as long as the Internet has been.
You'll receive an email telling you that you won a prize. Before receiving it, however, the email will tell you that you need to pay a fee.
In order to seem more genuine, emails from lottery scammers will often link back to fraudulent copies of official lottery websites, so make sure to check the URL before clicking on anything.
Anything that comes to you in writing, such as an email or a letter, may refer to you as "Dear Winner", and avoid using your name. Scam letters are also often printed on poor quality paper.
If you receive an offer of untold riches from a stranger, then send it straight to spam.
Phone scams
Phone scams can come as a call or a text message. A phone call from a scammer purporting to be a lottery official will take advantage of your shock at winning the lottery to get hold of your bank details.
A phone scam may well come from a Personal Redirect Number. This is anything beginning with +4470 and can be used from anywhere in the world. An official lottery would not use this sort of phone number.
A text message will inform you that your phone number has been selected at random to win a lottery prize. It might then ask you to follow a link and share your personal and financial details.
Similar to email scams, never trust a call or a text message from a stranger.
Post scams
With the rise of the Internet, these are not as popular as they used to be, but still worth watching out for.
Similar to other scams, you'll receive an official-looking letter. This will claim you've won a prize. To claim the prize they will require you to send money or call a premium rate number.
If you did not enter the lottery then it is not possible for you to win a prize.
How to avoid a lottery scam
The first rule of a lottery scam is, if it seems too good to be true then it probably is.
Genuine lotteries will not approach you asking you to claim a prize. If you play online, you may receive an email advising you to check your online account, but claiming the prize is up to you.
Remember, official lotteries will not ask for any payment of any kind in order to claim your prize.
The second rule is, if you didn't enter a lottery or raffle, then you can't win it.
Without having purchased a ticket for an official lottery, there's no chance you could have won it. And no official lottery will randomly select email addresses, phone numbers, Facebook accounts or addresses to give out prizes.
Always ask for advice, take time to think, and double-check!
Lottery fraud will also often include a strict time limit to claim the prize. They include confidentiality clauses and confusing legal jargon, giving the recipient less time to investigate or seek advice.
Finally, and one of the most glaring mistakes made by lottery scammers, is that scam communications often have very poor grammar and spelling mistakes.
What to do if you receive a lottery scam
If you receive anything that ticks the boxes above, we recommend that you:
> Never send any money to anybody.
> Don't reply or entertain any form of communication.
> Don't click on any links or open any attachments received with an email.
> Don't share your bank details or any of your personal details, and if you have already done so, contact your bank immediately.
> Report the scam to the authorities in your country.
Most importantly, remember to only play the lottery where it is safe and secure to do so.
Lottery24 provides a safe space to play lottery games from around the world. We use the latest 128-bit SSL security to ensure your details remain secure with every transaction.
Our expert customer service associates are available to assist with any problems you may have and are always happy to help.
Play genuine lottery games safely and securely with Lottery24. Your dreams may well come true!