Celebrations for Spanish Christmas Lottery Winners
Players from all over Spain are celebrating wins in the Spanish Christmas Lottery. This includes winners who have scooped a share of the €4 million top prize.

A different ceremony
The traditional ceremony that sees the numbers drawn was a little bit different this year. Usually, people queue overnight to get into Madrid's Royal Theatre, many in fancy dress such as Christmas Trees. However, due to the ongoing health crisis. The spirit of the draw was there though as people waited to find out the winning numbers.
It was at 12.02 that the jackpot winning number was sung by two children of the San Ildefonso choir. Number 72897 was drawn out and the areas that saw winners included Granada, Madrid, Bilbao, Zamora and Salmanca.
Those who bought tenths will receive a total of €328,000 after payment of taxes. There were thousands of other winners in the Spanish Christmas Lottery that had a total prize fund of €2.4 billion.
A great end to 2020
Spanish Christmas Lottery winners were thankful of a little bit of luck. That opinion was summed up by Manuel Rodriguez. He sold several top prize-winning series of tickets. He described the wins as "an enormous reward on a very difficult year." He'd had a tough time too with his business closed at times due to the pandemic. Sales for the Spanish Christmas Lottery were down 11% this year but there were still €2.58 billion worth of tickets sold.
"I'm going to bring some centollos [a spiny crab popular in Galician gastronomy], the kings of seafood, to celebrate," he said with a big smile.
People in Salamanca are celebrating after winning a share of the Spanish Christmas Lottery top prize. Manuel Nieto sold 15 series of winning tickets. His partner, Maria Sanchez, joked that there would be plenty of cider and champagne downed in the working-class neighbourhood. "People were excited to end the year well," she added.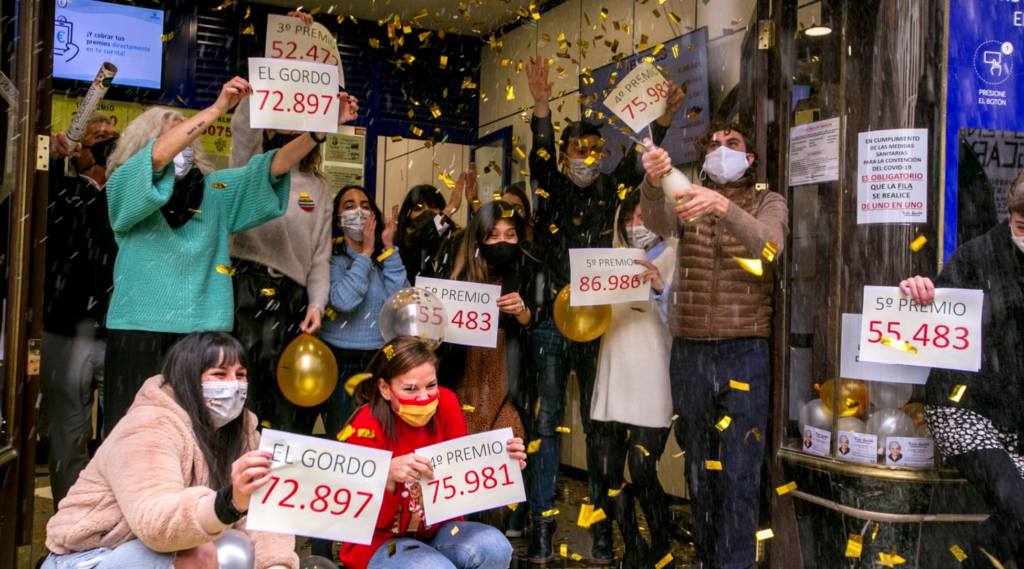 Madrid wins again
Madrid has the best record when it comes to top wins in the Spanish Christmas Lottery. There were more wins this year. Such is the popularity of the draw, some of the winning tickets had been purchased in July.
Get your tickets for the Spanish El Niño lottery today from Lottery24.