EuroMillions Winner Adrian Bayford's Farm Lies Derelict as he Prepares to Emigrate
The £6.5m farm of EuroMillions winner Adrian Bayford is rotting away after it failed to sell.[caption id="attachment_14913" align="aligncenter" width="320"]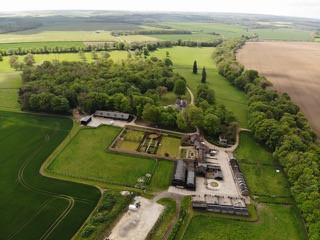 The farm home of Adrian Bayford sits empty. (Photo:
Chris White
)[/caption]Horseheath Lodge, a sprawling Cambridgeshire estate, could not find a new owner. Estate agents put the Grade II listed building and adjacent farmland up for sale.The once thriving property now sits derelict with a fleet of unused supercars parked on the driveway.Bayford, 48, bought the winning ticket in a 2012 EuroMillions draw to scoop a whopping jackpot of £148m.
A house in the country
The former postman's dream of living on a working farm in the countryside lies in tatters. He and his wife, Gillian, 46, split shortly after the EuroMillions win. Reports suggested that their relationship had broken down. Since then, Adrian has had a string of lovers but they all left him.In fact, Bayford claims that the win has made him miserable. He is now seeking happiness overseas as he makes the move to Australia.[caption id="attachment_11446" align="aligncenter" width="289"]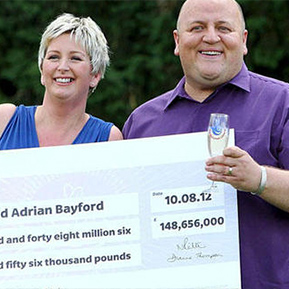 Adrian with now ex-wife Gillian after their EuroMillions win[/caption]With a massive fortune you may think that Mr Bayford would be more generous. In reality, Bayford has donated little to none of his fortune to local causes.
EuroMillions Winner Adrian Bayford has not been so lucky
The local population has instead turned against the multimillionaire. Reports claim that he rarely leaves the confines of his luxury home near the town. Many sources suggest that Bayford won't stop eating pasties, scoffing up to seven a day. He gets them delivered to the door from his childhood home county of Cornwall.Bayford recently commented on his loneliness, saying that the people who printed things about his life don't know him at all. He went on to state that he will go to war with anybody who makes unjustified comments about his character or behaviour.Indeed, it appears that the case of Adrian Bayford is one that proves the old maxim of 'money can't buy you happiness.'