French Ticket Wins Record €200 Million EuroMillions Jackpot
The long wait is finally over. In the EuroMillions draw held on Friday December 11, a ticket sold in France won the record breaking €200 million jackpot.
Last month saw a EuroMillions Super Draw take place on November 20. This saw the jackpot for that draw increased to €130 million. That was a massive increase as the previous jackpot had only been €77.4m. No one won the jackpot in the Super Draw and it just kept on rising throughout the rest of November and early December.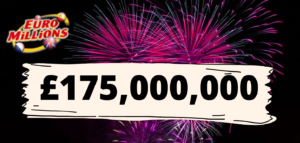 So high did it rise, the jackpot cap of €200 million was reached. Previously, the cap had been €190 million so we were in new record-breaking territory. There was the prospect of a must-be-won draw on December 18 but last night, the jackpot was finally won.
Will we ever know who won?
One very lucky ticket sold in France was able to match: 06-09-13-24-41 and the two Lucky Stars 03-12. No one has yet to come forward to claim their jackpot win. Under French rules they have 60 days to do that or they will lose this fantastic win. Will the winner reveal their identity or decide to remain anonymous?
12 other Millionaires Created
The December 11 EuroMillions draw also produced 12 other lottery millionaires. With the jackpot cap having been reached, the funds that would normally increase the top prize went to the top tier. Five tickets sold in the UK matched the five main balls and one Lucky Star and each will receive £1,886,380.

Three sold in France won the second-tier prize, they'll each receive €2,364,169.10. There was one second-tier winner in Spain, Portugal, Belgium, Austria. That's compared to the €609,799 second-tier prize in the draw held before the EuroMillions Superdraw last month.
Historic Win for France
The win for France is an historic one in other ways. It is the 110th top prize the country has won and now gives them the outright lead over the UK who has 109 with Spain on 105. It's also the 500th jackpot that has been won by all the countries that take part in the draw. 
The jackpot cap is now increased to €210 million; it may need help from another EuroMillions Superdraw to get that high again. The next draw is on Tuesday December 15 with the jackpot returning to €17 million (just over £15 million). Perhaps, we'll have another big winner before Christmas?
Buy your EuroMillions tickets from Lottery24