A couple is celebrating a $1 million Mass lottery scratch ticket win for the third time
A husband and wife have both won big with a Mass Lottery scratch ticket. The couple from Massachusetts has now taken $1 million each.[caption id="attachment_14521" align="aligncenter" width="820"]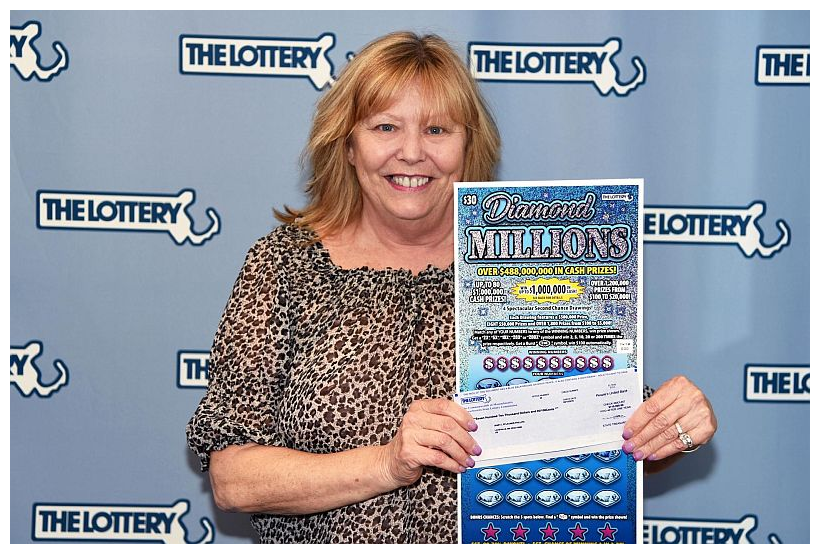 Janet Pfaumer-Phillips with her winnings[/caption]
Third time even luckier for Massachusetts couple
Kevin Pfaumer-Phillips, from Lakeville Massachusetts, actually won $1 million twice. He won his first
Mass Lottery
scratch ticket prize in April 2014, and his second in September 2016.This time it was his wife's turn. Janet Pfaumer-Phillips claimed her $1 million prize on Monday. She also scored big thanks to a Mass Lottery scratch ticket.
Won big on a new scratch-off game
Mrs Pfaumer-Phillips chose a "Diamond Millions" scratch ticket which she bought from an A&A Petro store in Middleborough.She told lottery officials that they have both been buying lottery tickets regularly for the last 20 years.With their third big lottery win, Mrs Pfaumer-Phillips said that she'll be making a charitable contribution. She wants to donate some of her $1 million to animal rescue organisations.
Helping out and making plans
They also want to use some of their wealth to help out those close to them. "It feels good to help family and friends and to know that he can retire," the winner said, referring to her husband's retirement plans.Mrs Pfaumer-Phillips will receive around $710,000 for her lottery win once taxes are withdrawn. The last time her husband won, he received around $650,000 and was planning to take a trip to Disney World.Mr Pfaumer-Phillips bought his two $1 million tickers from Tucchi's Supermarket in Middleborough and Shaw's store in Canton.The store where the lucky Massachusetts winner bought her ticket will receive a $10,000 bonus. There are still 78 $1 million prizes left on the Diamond Millions game.
See if you could win by playing with

Lottery24