Mega Millions Jackpot Win After Daily Visit to Fill up Their Car
Hira Singh from Kansas, USA, regularly buys lottery tickets while on his way to and from work. That paid dividends for him when he had a fantastic $50m Mega Millions jackpot win in the March 12 draw.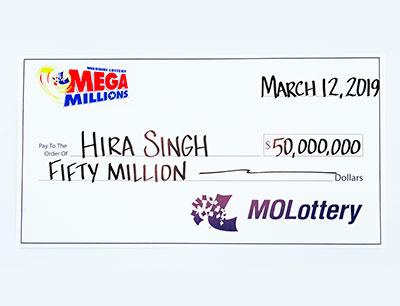 I'll Take a Lottery Ticket Please
The lucky winner purchased his life-changing ticket from the Quiktrip in Kansas City, Missouri. He regularly buys tickets from there as he fills his car up as he travels to and from work.That's just what he did last month and he's now celebrating his $50m Mega Millions jackpot win. His ticket was able to successfully match 10-12-16-49-57 and the Mega Ball 18 to make him a multi-millionaire. His win came just 11 days after Michael J Weirsky won a $273m Mega Millions jackpot.It wasn't until a few days after the Mega Millions draw that he realized his good fortune. The following Saturday he used a Check-A-Ticket machine to see how he'd gotten on in the last draw.
Prayers Lead to Success
"I prayed upon my God and then scanned it," joked the big winner. "Then I checked it like three more times!" Finally, he accepted that his ticket had produced a $50m Mega Millions jackpot win.A few days passed until he
went
to Missouri Lottery Headquarters in Jefferson City to claim his winnings. Mr Singh admitted he was "still surprised" and is constantly thinking just how he'll spend is $50m Mega Millions jackpot win. He decided to accept the cash option of $30.2m.
Over 500 Millionaires Created
"It's so much fun to see our players win," said May Scheve Reardon, executive director of the Missouri Lottery. The state of Missouri has had a great deal of lottery success. This latest big win is the 515th time a ticket purchased in the state has made its owner a millionaire.It's not just good news for the lottery winner. Missouri will collect approximately $1.2m in state income taxes. The Quiktrip store will receive a $50,000 bonus cheque for selling the winning ticket.
Play Mega Millions and win with

Lottery24