National Lottery Funding Worth Nearly £63m Sees Pembrokeshire Celebrate
Playing lottery games in the UK isn't just about trying to win a big prize. National Lottery
funding
has seen nearly £40bn distributed to good causes all over the UK. This includes nearly £63m being given in grants to Pembrokeshire in England over the last 25 years.The National Lottery funding has seen over 2,400 grants given to the county since 1994. They have helped people of all ages allowing groups to continue that might otherwise have had to reduce or end their services.
Renovation Work Made Possible
The Torch Theatre in Milford Haven has plenty of reasons to be grateful for the help received from the National Lottery. They received £4.8m to modernise and redevelop their theatre. Also, able to carry out renovation was Haverfordwest town's conservation area thanks to £2m in grants from the National Lottery.Skomer Island received £1.6m and that allowed much-needed renovation and conservation work to be carried out. This included work being carried out on the historic 150-year-old farmhouse and outbuildings.Not all National Lottery funding runs to such high amounts. Most are for £10,000 or less but just as important to those receiving them.
Spreading Awareness
A grant of £5,000 made to the Clynfyw Community Interest Company was of vital importance. It allowed them to help raise awareness of the mental health challenges faced by members of the farming community.Many sporting groups in the county have been given grants. The Fishguard and Goodwick Jemima Rowing Club was given a grant of £1,500. This allowed them to purchase new equipment and offer training.
Olympic Success
Jade Jones is a double
Olympic Taekwondo Champion
but might not have reached those heights without help from the National Lottery. She's one of over 1,000 National Lottery funded elite athletes in the UK.[caption id="attachment_12956" align="aligncenter" width="159"]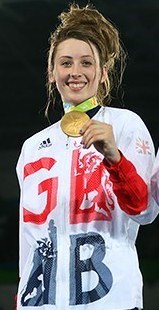 Olympic Champion Jade Jones received National Lottery Funding[/caption]The financial help given helped her to compete and train full time. Speaking about the help given, the successful competitor said the help given has "helped us to secure podium places at the highest level."
Play the

UK Lotto

and support more good causes