Valentine's Day UK Lotto Superdraw announced
With love in the air, the UK Lotto have announced a special Valentine's Superdraw. The draw will feature a special jackpot worth £14 million. It's set for February 13, just in time for a perfect Valentine's Day.The UK Lotto is boosting its jackpot for the Superdraw. It will be set at £14 million for the special occasion. The last UK Lotto Superdraw was held on December 22, 2018, which had a £15m jackpot.
Real romance and real retailers
To
promote
the UK Lotto Superdraw, lottery organisers have unveiled a special advert. The advert features Jon and Michaela Maslen-Jones, married shopkeepers who sell UK Lotto tickets. UK Lotto organisers Camelot, chose the couple to highlight their hard work and real-life romance. They have been married for 22 years and manage the Stow News Post Office together.[caption id="attachment_11457" align="aligncenter" width="620"]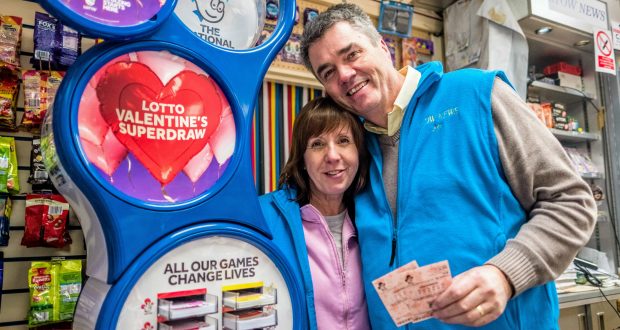 Husband and wife retailers, Jon and Michaela Maslen-Jones in their store[/caption]The UK Lotto Superdraw advert will be showing on TV in the run up to the draw. The UK Lotto aims to further invest in all 44,000 UK retailers in 2019. Last year, sales incentives were included for lottery retailers. Over £600,000 has already been awarded to shops that sell more tickets.Mr and Mrs Maslen-Jones show their love for the lottery and each other in the new Valentine's themed advert. "We're so glad they enjoyed the experience," said a lottery spokesman. "We really appreciate them taking the time out from their shop to do so."With £14 million available you could treat your loved one to a special Valentine's Day. You could purchase anything their heart desires. A trip to Paris could be in the offing with fancy dinners and flowing champagne. Maybe a new car would be top of your list or a brand new house to share together. You won't know, unless you buy a ticket!
Buy your UK Lotto Superdraw tickets from

Lottery24