$10 Million Scratchcard Win to Honour Son's Death
Marine Master Sergeant Alvin Mack II from Jacksonville in North Carolina has had an eventful year. May saw him retire from the military after 20 years service and now he's won a $10 million prize on the Supreme Riches scratchcard.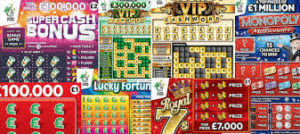 However, it's also been a tragic year for the retired veteran. May saw his 19-year-old son Alvin Mack III, pass away. He had served in the Air Force Honor Guard and his untimely death has hit his father hard. He believes though that his scratchcard win is "truly a blessing from my son."
"He was my only son and he meant so much to me. I've always been a believer of luck, but in this case, I just felt like it was a little bit more than that." The big winner has a tribute room to his son in his home and has revealed how he came to his decision on how to spend his scratchcard winnings.
"I sat with him last night, and just told him, 'Is there anything you want me to do? And I'll do it." When his son died, he was unable to pay all the burial costs. He has been receiving help from the Fisher House Foundation and now wants to help them.
The scratchcard winner says that he will "donate to the Fisher House Foundation and continue to help others I can, in my son's name." Also planned is setting up a scholarship fund for student-athletes. His son was a football quarterback in High School.
His winning scratchcard was purchased from the Publix Grocery Store in Jacksonville. He scooped the final $10 million prize. He has opted to accept his winnings as a one-off lump sum payment of $4,245,009 after state and federal taxes.
The $300,000,000 Supreme Riches scratchcard was launched in April of last year. There were four top prizes of $10 million. One of the prizes was won by Wade Harmon who decided to buy a scratchcard on his way home and became a multi-millionaire. Now that the final one has been won, the North Carolina Lottery will begin to phase the game out.