EuroMillions Jackpot of £123m won by one lucky UK ticket holder
It has already been a successful year for UK players of EuroMillions and it has got even better. One lucky UK ticket holder won the £123m EuroMillions jackpot yesterday evening.They matched the winning numbers 25-27-39-42-46 and the Lucky Stars 11 and 12.The £123m jackpot makes it the third largest win in the UK.The winner has not come forward and officials are urging players to check their tickets.
Four winners for the UK in 2019
"This year has been truly incredible for UK EuroMillions players - with four jackpot winners so far on these shores," said Andy Carter, senior winners' adviser at the National Lottery.2019 has been a very lucky year for UK players so far. It started on 1 January when Patrick and Frances Connolly took down a £115m jackpot.The Connolly's plan to create a list of 50 friends and family members to share their wealth with.Ade Goodchild followed their win with his own one in March. His win totaled £71m and exclaimed that his win was going to change his life."I'm not one of these winners who is going to say this win won't change me. It bloody well will, or at least I'll give it a damn good go! There'll be no more shift work for me."In April, one anonymous ticket holder picked up a £35.2m EuroMillions win.
The largest EuroMillions Winners
The largest ever UK EuroMillions win was in 2011.
Colin and Chris Weir
from Scotland, landed a massive £161m. They used some of their massive fortune to donate to local charities and sporting causes. In April this year they announced they were to divorce.[caption id="attachment_5657" align="aligncenter" width="615"]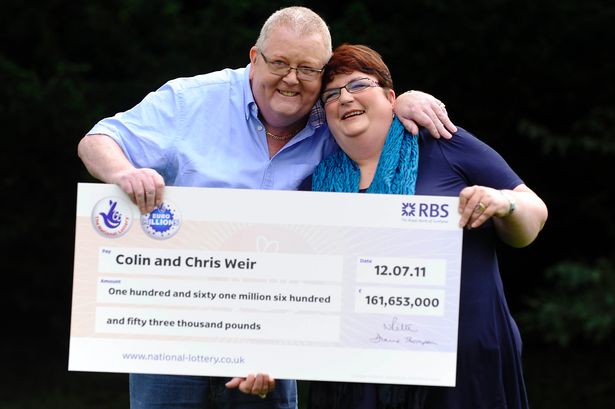 Colin and Chris Weir strike it rich in 2011[/caption]The second biggest win was in August 2012. Adrian and Gillian Bayford of Suffolk, England, won £148m. After a year they divorced and have gone on to live separate lives.
Win the EuroMillions when you play at Lottery24