EuroMillions prize claimed by Dublin family syndicate just days before the deadline
A EuroMillions prize worth €272,165 almost went unclaimed by a Dublin family. The lucky winners were just days away from losing their prize as the 90-day deadline was fast approaching.
EuroMillions prize claimed with just days to spare
The Dublin syndicate won their EuroMillions prize on 5 March 2019. According to EuroMillions rules, they have 90 days to claim the winnings.[caption id="attachment_14579" align="aligncenter" width="375"]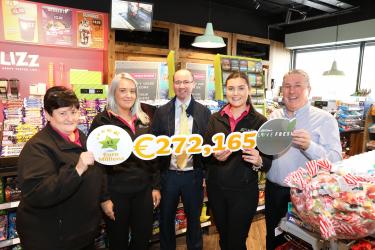 Staff at McKeons Love Fresh where the winning ticket was sold[/caption]The deadline for claiming was 4 June, with the family leaving themselves just a week to spare. The head of the syndicate explained that his bad habit of not checking tickets almost cost them their prize.
Check your tickets
"I suppose this really hammers home how you need to check your tickets as often as possible," the lucky Dubliner said. He explained that the family really had no idea they were winners until now."Late last week I opened up an old briefcase and there was a couple of old lottery tickets which I put aside to check," the EuroMillions winner said. He took the four tickets into his local shop, and when the shopkeeper handed one of them back, he whispered: "contact the National Lottery."The
Quick Pick ticket was purchased
at McKeons Love Fresh store in Kells, Ireland.
Relieved not to miss out
The lucky winner said that he missed the media campaign regarding the local winner. Now he's just as relieved as lottery officials to have confirmed the win."Knowing now that I had such a valuable ticket stuffed into an old briefcase for almost three months."The family are still coming to terms with their €272,165 EuroMillions win. They are planning to spend the weekend celebrating before making any other plans for spending the winnings.
Play EuroMillions now with

Lottery24