Irish Lotto Win Means Fresh Start for Sheffield butcher
An Irish Lotto win means a fresh start for a local butcher from Sheffield. The lucky winner is the talk of his neighbourhood thanks to his £150,000 prize.
Keeping the good luck local
Glyn Sterland works at a family butcher's shop in Woodseats, Sheffield. He lives across the street from work and has always stayed local to the area.Now, thanks to an Irish Lotto win, he is all set for a fresh start. Mr Sterland
bought
his winning ticket at a Betfred store across the street from his job. He chose numbers 10, 12, 15, 23 and 29 for his ticket. They each correspond to his five children's birthdays.[caption id="attachment_12018" align="aligncenter" width="640"]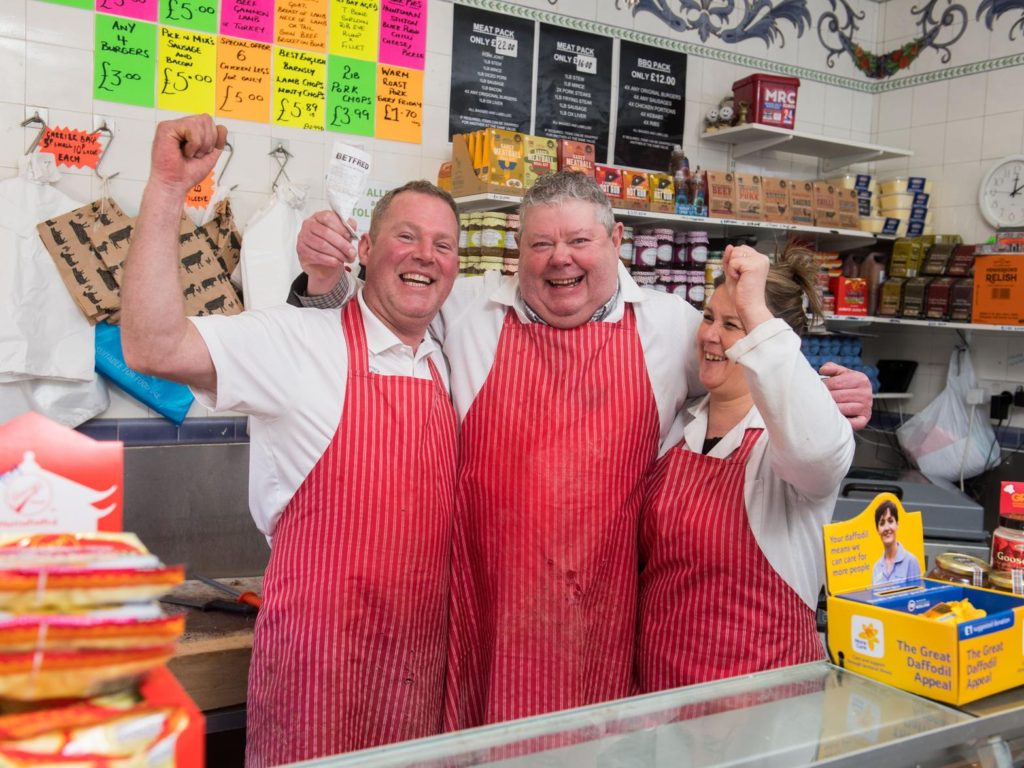 Glyn Sterland, centre, celebrates with colleagues Ian and Sharon Batty. (pic: Jon Parker Lee)[/caption]Mr Sterland has worked at Batty's Family Butcher's for 40 years. The £150,000 Irish Lotto win will give him a fresh start. However, he doesn't want to go too far.
Using his fortune for a fresh start.
The butcher is well known in the area. He plans to stay local, but he'll buy his own home close to work. He also plans to buy his own car, and possibly take a holiday. "I don't like going abroad, but maybe I will treat myself to a trip somewhere in this country."The lucky winner had just got home from watching football when he found out about his Irish Lotto win. "I couldn't believe it," the Sheffield butcher said. "I jumped up out of my chair and started screaming at the top of my voice."£150,000 richer, the lucky man headed back out to celebrate. "It really hasn't all sunk in yet," he continued. "You've got to have dreams otherwise life is not worth living."Dreams have certainly come true for Mr Sterland. And he's all set to enjoy a week off work to enjoy it.
Make your dreams come true and buy a ticket now with

Lottery24

.