Lucky Lottery Winner Takes Home $1m Two Years in a Row
Terry Splawn from North Carolina, USA, is a very luck Lottery winner. He's had two $1m lottery wins in less than two years. Incredibly, both winning tickets were purchased from the same store.[caption id="attachment_12851" align="aligncenter" width="640"]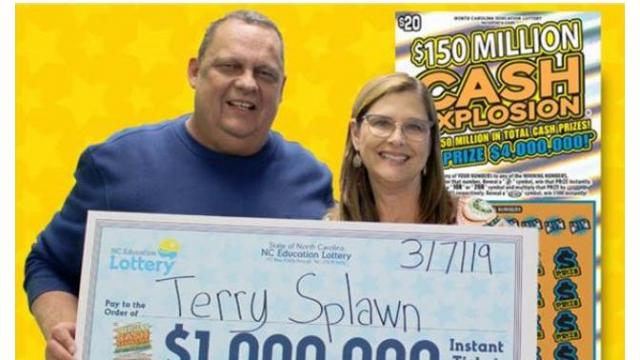 Terry Splawn with the second of his Lottery wins[/caption]The lucky player's first
win
came in April 2017. He bought a Millionaire Bucks scratch card from Sam's Mini Stop on Old Charlotte Road in Concord, North Carolina. He won $1m beating odds of 1 in 1.248m to land the fantastic prize.
Another $1m for Lucky Lottery Winner
Most players would be satisfied to win that amount but two years later, he's celebrating again after another $1m lottery win. He returned to Sam's Mini Stop and this time he purchased a $150 Million Cash Explosion scratch card. Lightning struck twice, and he won another $1m prize. This time the odds of him winning were 1 in 1.8m.
What are the Odds?
When he collected the second of his $1m lottery win, there was one question he just had to ask lottery officials. "What are the odds of this happening?" he asked. Obviously still in shock from his big win, Splawn added: "I can't believe I won the lottery not once, but twice!... I just thought, 'This can't be happening.' "He decided to accept his winnings from this latest success as a one-off payment. He'll receive $434,506 after paying taxes on his winnings. Recalling his previous $1m lottery win, he said that his wife had spent most of it on home improvements. That won't happen this time he joked. "I'm keeping this one" and plans to "put it aside for a rainy day."Lottery officials in North Carolina haven't carried out an investigation into the double win. It's not believed that the winner is related to anyone who works or owns the store.
Be a Lucky Lottery Winner with

Lottery24