A brand new National Lottery game is coming, and it pays out every month
A brand-new National Lottery game is coming, and you can win £10,000 a month for the next 30 years.
Monthly lottery payday
The new National Lottery game, called 'Set for Life' offers players the chance of winning a huge £10,000 a month for the next 30 years. The game will be launched by the National Lottery on March 15 with odds of 15 million to one, which are much better odds than the National Lottery's other games, the EuroMillions and UK Lotto.A spokesperson for Camelot, the company which runs the lottery, said that the new National Lottery game is being launched in a bid to attract more younger players with the promise of a regular pay day. "The new game meets a different set of consumer needs, especially among younger people," he said.
More playing days for lottery fans
The new National lottery game will be drawn on Mondays and Thursdays, giving lottery fans two more days to watch for their numbers. Players will be required to pick five main numbers from 1 to 47 and one Life Ball from 1 to 10. As well as the top £10,000 prize every month for 30 years, there will be smaller prizes ranging upwards from £5 to £10,000 a month for one year. Each line will only cost £1.50, a full £1 less than a EuroMillions entry.[caption id="attachment_10954" align="aligncenter" width="992"]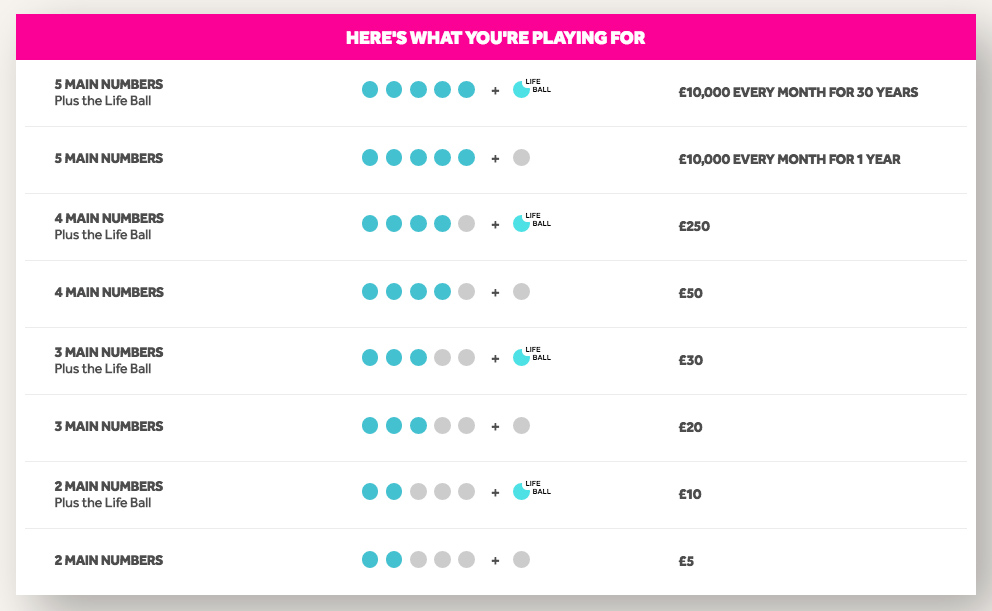 The prize tiers for Set for Life. Image from The National Lottery[/caption]We've previously reported on similar annuity style games across the pond in America and Canada, such as a "Win for Life" game which was
recently
won by a Canadian college graduate who received the ticket from her father as a gift. Camelot have said that they recognise the growing appeal of a prize being paid out in regular instalments over a longer period.
Set for Life is

set for launch

on March 15.
Try your hand at the

UK Lotto

now with Lottery24!