UK Lottery Winners Treat Hospice Patients to an Unforgettable Experience
A group of UK Lottery winners from Hull, England, have given more than 200 patients and carers from Trinity Hospice the ballroom dancing experience of their lives.The lottery winners included couples Jill and Steve Walsh and Paul and Debbie Lawton. They were
joined
by other lottery winners from across the UK. Between them the lottery winners had won over £115m. They all helped to arrange a festive afternoon tea and ballroom dancing masterclass at the world-famous Blackpool Tower Ballroom.
Dancing the night away
Trinity Hospice provides respite and end of life care for both adults and children that have life limiting and life-threatening conditions. It was an unforgettable afternoon as the guests were able to learn the Waltz and Rumba. They were aided with instruction from professional ballroom dancers.[caption id="attachment_10611" align="aligncenter" width="615"]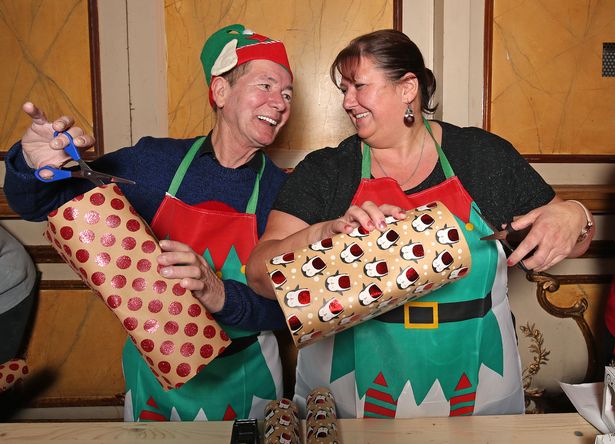 Paul and Debbie Lawton prepare presents for the guests[/caption]They all danced while the legendary Wurlitzer organ played some fantastic music. To make the afternoon even more special, the lottery winners had created a Winter Wonderland. Even Father Christmas made an appearance at the ballroom dancing extravaganza.
Dreams can come true
A beaming Yvonne Richardson, who receives day care at Trinity Hospice, said, "It has been the most amazing afternoon." She added that dancing on the magical Blackpool Tower Ballroom floor "has been better than I could have ever imagined."  The delighted dancer probably wasn't alone when saying it was "a dream come true."One of the lottery winners helping with the ballroom event was Blackpool resident Andrew Cunliffe. He won a £1m prize two years ago playing a National Lottery scratchcard. Andrew had personal reasons for helping the event. The generous lottery winner commented that "the hospice is a place which is very close to the hearts of both myself and my wife."Since his big scratchcard win, Andrew says he has had more time to "be able to spend doing things like this and helping to bring joy and happiness to so many people."
Get your tickets and become a winner with Lottery24