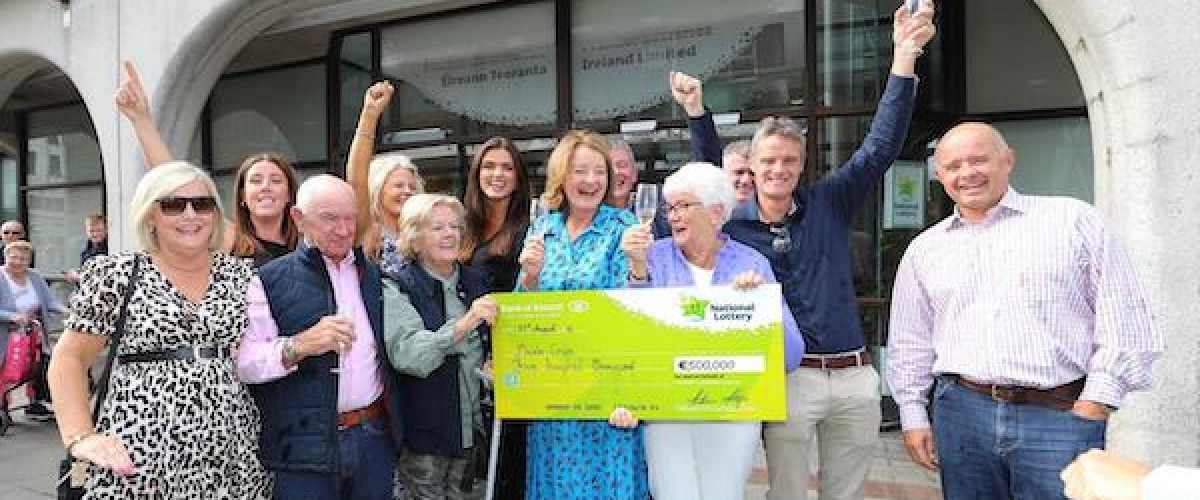 Back to news
Where Oh Where is My €500,000 Winning EuroMillions Ticket?
Imagine winning a €500,000 EuroMillions prize and then nearly losing the ticket. That's what happened to Nuala Croke from Wexford in Ireland,
Her ticket had been purchased from Corrigan's Spar Supermarket in Oulart. It wasn't initially her plan to do that. The soon to be EuroMillions winner was out doing her shopping. All she wanted was some bread, milk and a packet of biscuits.
Recalling her purchase for the August 19 EuroMillions draw, Nuala said that she had "a few bob left over" so decided to buy a EuroMillion ticket.  Never did she imagine a big win was on the way.
After the draw, the news broke that the €500,000 winning ticket had been sold at the Corrigan's Spar Supermarket. Nuala didn't believe she might be the winner and even convinced herselt her ticket had been bought elsewhere.
Where is my ticket?
It was her friend Bridget who had a feeling that the Wexford resident was the winner.decided to finally get her ticket checked but then discovered one big problem. Just where was the ticket? It was two days before she was able to find it. All that time the €500,000 winning EuroMillions ticket had been in her purse.
With the ticket finally found she invited some friends to her home to be with her when calling the National Lottery Claims Department. That's when her massive win was confirmed. "The entire room erupted, roaring and cheering. It was just electric," said the EuroMillions winner.
Can't wait to spoil her family
 On August 31, Nuala and several family members collected her winnings. Plans for her winnings include sharing it with her family. It's a rather large one as she has ten children, 20 grandchildren and five great-grandchildren. "I can't wait to spoil them," she said with a big smile on her face.
Perhaps she'll also buy a ticket for Friday's EuroMillions Superdraw. That has an enhanced jackpot of €130 million (£112 million). Joining one of the Lottery24 syndicates will give you a better chance of winning a massive prize.
Buy EuroMillions tickets from Lottery24