EuroMillions Superdraw Announced for June 7 with Bumper Jackpot
It's time to count down the days with the next EuroMillions Superdraw announced to take place on Friday, June 7. The jackpot that evening will be a massive €130 million (approximately £110 million).
Bumper Jackpot
The current EuroMillions jackpot stands at only £31 million in comparison. With only a few weeks until the Superdraw, the jackpot will jump up for the special draw.Recent weeks have seen the jackpot won on different occasions, but the jackpot will be a guaranteed minimum of €130 million.It's the second EuroMillions Superdraw in 2019 with the previous one being held on February 1, 2019.That draw had the huge sum of £104 million up for grabs. It didn't immediately produce a jackpot winner, so the top prize just kept growing. It reached €175m (£152m) after several rollovers. The massive amount was eventually won on
19 February by the Connolly family in Ireland
.[caption id="attachment_14136" align="aligncenter" width="660"]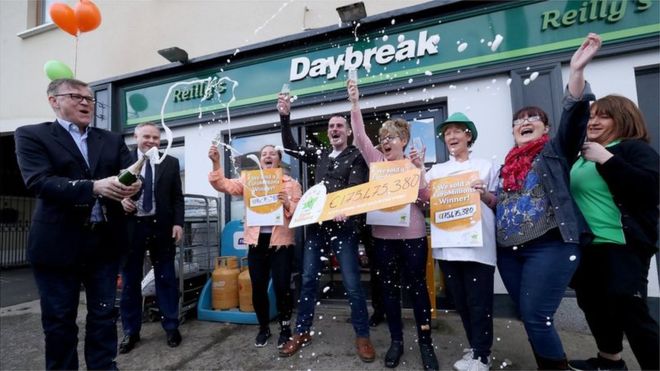 Store staff where the Connolly family bought their ticket celebrate the success[/caption]If the Connolly family had not won, the jackpot would have reached the cap of €190m (£162m). When the cap is reached, the draw takes place another four times at that amount before it has to be won on the fifth draw.
EuroMillions Superdraw for the 24th time
This will be the 24th EuroMillions Superdraw, with the first being held back in February 2007. That draw saw the jackpot won by a ticket sold in Belgium.Of the previous 23 EuroMillions Superdraws, only seven have seen the jackpot won on the initial drawing. The last time it happened was in June 2017 when a ticket sold in the UK managed to win £87.57m (€100m). That's also the only time a EuroMillions Superdraw that has taken place in June has produced a jackpot winner.
Read more: The history of the Superdraw and the winners so far
Hopefully, 7 June will see a jackpot win take place again.
Get your EuroMillions tickets today on Lottery24