How lucky can you be? Maine man is a lottery winner twice in one year!
A scratch card player has become a lottery winner, twice! The lucky man from Maine, USA has won for the second time in three months.
Double Lucky lottery winner
The lucky lottery winner, Robert Stuart, is from the state of Maine on the east coast of the USA.[caption id="attachment_16137" align="aligncenter" width="405"]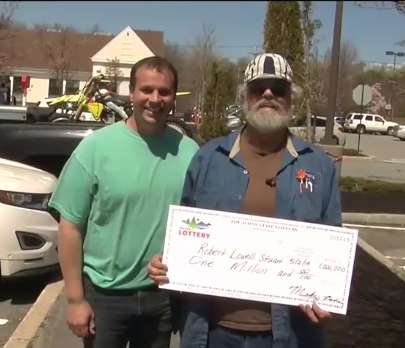 Robert Stuart collects his second win of the year. (
Moose FM
)[/caption]He initially won $1m in May of this year thanks to an Ultimate Millions scratch-off card.For his first win, he took his prize as a one-time lump sum, receiving $710,000 after taxes.He'd purchased his lucky ticket from a Hannaford store in Kennebunk, his hometown in Maine.His most recent win came thanks to a Cash Blowout scratch-off card. He purchased this lucky winner from a Circle K store, also in Kennebunk.The second lottery win was worth $100,000 to Mr Stuart.
The Maine man
The Maine state's motto used to be "The Way it Should Be." Mr Stuart attributed this motto for his double success and how it has helped to turn around his life.Following a long weekend to celebrate Labor Day in the USA, the lottery winner must certainly have had plenty to celebrate.We can only imagine the feeling of winning the lottery not just once, but twice!The Maine lottery hasn't yet released any further details about his big win, but we expect that Mr Stuart will already have some plans for spending the winnings.Becoming a lottery winner twice is certainly an achievement, can he do it three times?