Just Two Weeks Til the Spanish Christmas Lottery Draw
The excitement is beginning to grow as the date of the Spanish Christmas Lottery gets closer and closer. Will you be a big winner in the El Gordo de Navidad draw on Tuesday 22 December? 
There's a €2.408bn prize fund and players from all over the world can take part, so buy a ticket from Lottery24 today. The Spanish Christmas Lottery draw is full of tradition and the festive celebrations just wouldn't be the same without it. While many lotteries have only been operating for a relatively short period, this draw dates back to 1812. It was launched to raise money for the Spanish troops who were battling Napoleon's armies at the time.
The Excitement Builds
The top prize in days gone by was the equivalent of €50 in today's money. Now the average Spaniard spends more than that in ticket purchases, dreaming of a life-changing win. Lottery booths across the country are busy selling tickets for the 2020 Spanish Christmas Lottery draw.
The way in which tickets are purchased is different from other lotteries. Each One is divided into 10 décimos, all with the same five-digit number. This number can be repeated many times on other tickets. This means that the winning prize of €4m will be shared between everyone who has that number.
This regularly sees whole families or groups of friends sharing in a win at the best time of the year. Hence the slogan 'The greatest prize is sharing.' This was illustrated in the adverts released for this year's Spanish Christmas lottery.
Your chances of winning the top prize is 1 in 100,000 and scooping any prize has a 1 in 6.5 chance. This draw isn't just about the top prizes, there are a considerable number of other smaller prizes. Therefore, there are plenty of chances to get a win starting from €20 and including 1,794 prizes called "La Pedrea", which are worth €1,000 each.
Sing those Numbers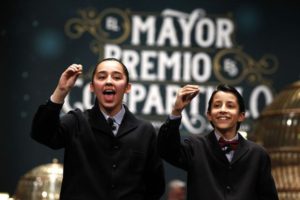 How the draw is held is another legendary aspect of this draw. It's not a case of some machine just churning out numbers and a voiceover reading them out. This drawsees students from the San Ildefonso School singing the results. Don't miss out on this great draw, Christmas wouldn't be the same without it.
Get your tickets today from Lottery24