The UK's latest EuroMillions winner is still working… for free!
A builder who became the UK's latest EuroMillions winner has revealed he's still working. Not only that, but he's told his customers that he'll do their jobs for free as an early Christmas present.
Spreading Christmas Cheer
Steve Thomson, from Selsey, West Sussex, won £105m on the EuroMillions just a few weeks ago. At the time, he said that he would continue working as a builder in an effort to 'stay normal.'
[caption id="attachment_18490" align="aligncenter" width="611"]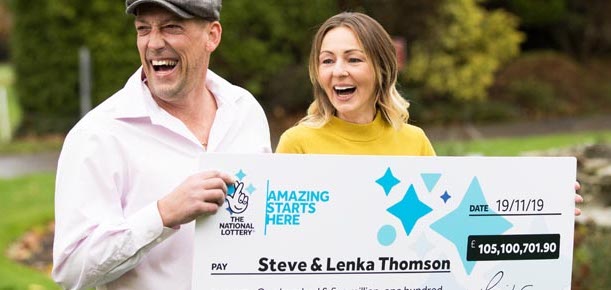 Steve and Lenka Thomson are now the 9th biggest UK EuroMillions winners[/caption]
The ninth-biggest UK EuroMillions winner has since refused to charge several clients. He said that instead, they should use the money to buy Christmas presents.
A top guy and a good neighbour
Mr Thomson recently completed a conservatory installation for one of his neighbours, but she revealed that he didn't charge her. "It shows he's a top bloke, a decent man," she said.
The neighbour continued to say that they didn't ask him about his EuroMillions win but said that he was still using his old yellow work van. "He intends to complete outstanding jobs and stop working," she said, adding that he didn't see the point in buying a new one.
Making life easier for the whole family
Together with his wife Lenka, with who he has three children, Mr Thomson plans to buy a new home. Mrs Thomson has already quit work, and they want each of their children to have their own bedroom to make life "a bit more harmonious".
The couple's ten-year-old son has already asked for a Tesla. While their eight-year-old daughter wants a pink iPhone for Christmas.
After his win, Mr Thomson said that above all he wanted to stay normal. "I'm trying to finish some jobs before Christmas," the builder said. "I won't be able to finish all of them, but I'm doing what I can between meetings."
Make sure to get your EuroMillions tickets at Lottery24 and you could be a millionaire by 2020.