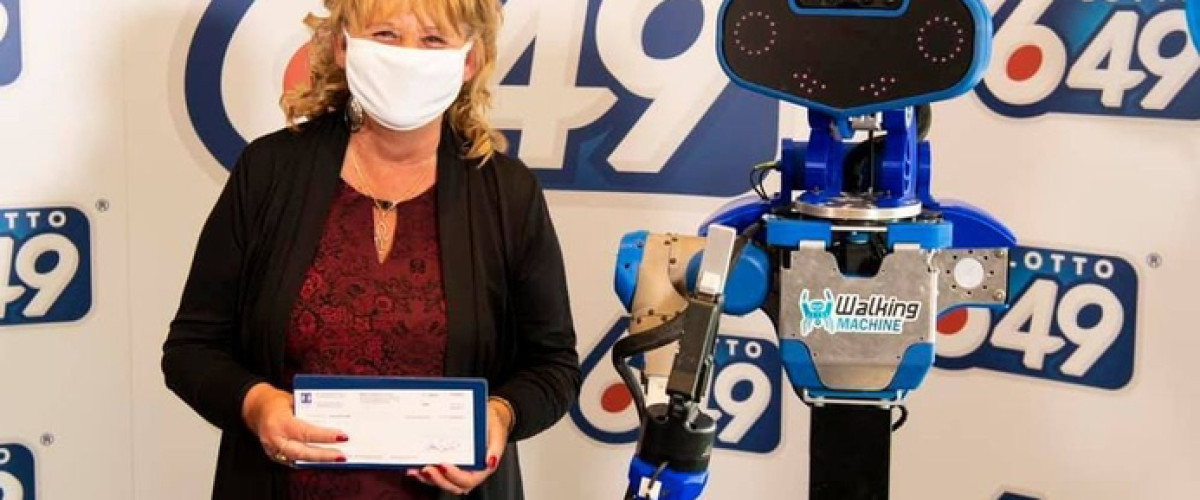 Back to news
Life Sized Robot Presents $6m Lotto 6/49 Cheque
It's always a special moment when you receive a big lottery prize and one you will never forget. When Guylaine Desjardins from the Laurentians won the $6m Lotto 6/49 jackpot in the July 1 draw, she could never have guessed how her winning cheque would be received. It wasn't a lottery official or a celebrity who made the presentation but a robot!No cheque presentation had been made in person since February 27 due to the ongoing coronavirus pandemic. Since then, winnings have been sent out by mail, but a solution needed to be found and that's where the robot comes in.
The $6m Lotto 6/49 cheque being presented to Gulaine hadn't been touched by anyone for 72 hours before the robot handed it over to her. It wasn't any normal robot, this one was life-sized and designed by École de technologie supérieure (ÉTS), in partnership with Centech, a company that loves to support innovative projects in Quebec.
Why not Buy Your own Robot?
Perhaps this is the way forward when it comes to cheque presentations. You could be buying a ticket from Lottery24 one day and meeting a robot the next. Seeing such a marvel may well want lottery winners to get one of their own.
With your swelling bank balance, that can now become a reality. Robot technology is reaching amazing levels. With a big lottery win you could go and buy an ASIMO. That's a bipedal humanoid robot designed by Honda and it stands for Advanced Step in Innovative Mobility. They don't need human operation, so just relax, and enjoy your winnings while this incredible robot does all the hard work. These robots can recognise your face and voice, so make sure you're nice to them.
It was a special day for everyone, especially Loto Québec. Not just because of the robot but It was their first Lotto 6/49 cheque presentation shown on Facebook Live and the first held at the Mont-Tremblant Casino.
The lucky winner didn't find out about her win until a few weeks after the draw. That's because she only checks her tickets every four draws. It was on a visit to the Dépanneur Lacelle in Mont-Laurier, where she tends to make her lottery purchases, that the clerk told her she'd won the $6m Lotto 6/49 jackpot.
"Wait, let me go get my glasses," was her first reaction. For the next hour, her nerves were jangling. The first people she told of her Lotto 6/49 win was her two sons. One quickly went online to confirm the fantastic news.
Her Numbers Finally Won
Her win was a long-time coming, but it pays to be patient. Desjardins says she has been using the same numbers for more than 25 years. "I thought I might one day win like a $100,000, but I never dreamed I'd win $6 million," the lucky winner said.
The jackpot winner plans to invest her winnings before deciding how to use her windfall. A lot of lottery winners immediately go out and buy a new car. Not this one, instead she plans to buy a three-wheeled motorcycle. Perhaps in time, she'll buy a robot to forever remind her of the day one presented her with a Lotto 6/49 cheque for $6m.
Get your lottery tickets online from Lottery24!