Back to news
Lottery Winners Should Copy Celebrities Spending Plans
When you win a huge lottery prize, you may well feel like a bit of a celebrity. Even if that isn't the case, you will be as rich as many a celebrity. Therefore, taking some notice of how celebrities look after their finances is a good idea.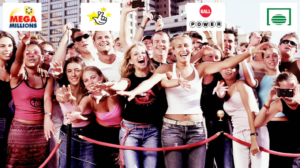 Being a celebrity can be a bit like winning the lottery. An actor might spend years in supporting roles, then get that part that turns them into a mega star. Suddenly, just like a lottery win, their bank balance goes through the roof and a whole new world opens up to them.
Buy a Business
There will of course be some celebrities who go on a spending spree. Others are far more careful with their money. Sports celebrities also use their wealth to stay in their sport after retirement. Baseball player Derek Jeter became a part-owner and CEO of the Miami Marlins team. Then there's footballers such as Ryan Giggs, the Neville brothers and David Beckham who all have investments in football teams.
How many businesses do you see that have the name of a celebrity? Singer Gwen Stefani sells clothing and accessories. David Beckham and Britney Spears have their own perfumes on the market adding to their already impressive incomes.
Investment Time
Making investments is another way that celebrities increase their fortunes. You could do the same with your lottery winnings. John Cusack and Sylvester Stallone invested in a private fund. 'Lipper Convertibles' did the trick and the $2m invested by Stallone is said to have seen over $1m profit made.
Profitable Properties
Investing in property is a popular tactic employed by celebrities. The value of the properties is likely to increase in the future. Renting out properties is another constant flow of cash into their bank account.
Top footballers Lionel Messi and Cristiano Ronaldo both invest in property and are doing well from it. Adrian Bayford won a £148m EuroMillions jackpot and has gone down the investment route buying a series of properties. You could do the same If a ticket purchased from Lottery24 gives you a big win.