Man has a scratch off win on Lunch Break and Becomes a Multimillionaire
James Belich, a logistics manager from Charlotte, North Carolina, stopped by a convenience store during his lunch hour and purchased a scratch off win ticket on a whim. [caption id="attachment_14615" align="aligncenter" width="700"]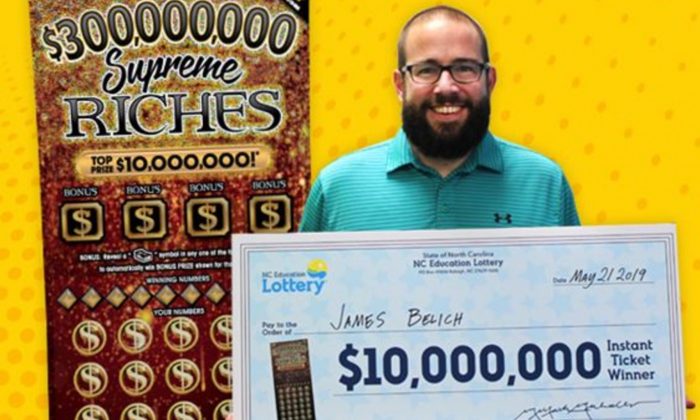 James Belich with his massive prize (North Carolina Education Lottery)[/caption] After scratching the instant lottery ticket in the store, Bellich was astounded to find that he had won the jackpot. To his credit, James finished the day at work before rushing home to share the news with his unsuspecting wife, Emily.
A pleasant surprise for his wife
"When he got home, he was so shocked all he could do was hold the ticket up in front of my face." she said.Still in shock at his life-changing stroke of luck, Bellich said that he never expected to win such a massive amount from a single scratch off win ticket, stating that the win was "unbelievable"."Our two boys are too young to really understand. Our oldest is five and he thinks we won $20," added Emily.Bellich
called his friends
, brothers and his uncle to tell them the news before driving to see his mother and reveal the jackpot win in person.Upon learning that her son was now a scratch off win lottery multimillionaire, Mrs. Bellich broke into tears."You know, I'm one of four brothers, my mom was a single mom. We're all really, really close. It's important for me to share this win with them," Belich said.
No plans for the money yet
Mr. Bellich had two options for claiming his prize. He could either receive $500,000 per year for 20 years, which would total $10 million. Alternatively he could receive a lump sum of $6 million.He chose the second option and on 21 May he took home $4.25 million after taxes from the Raleigh NCEL Headquarters.Although the scratch off win money will be a huge boon for Mr. Bellich, he stated that he is happy with his life and has no plans on making enormous changes."We like where we live, it's great to raise a family," said Bellich. "We may buy a few extra rounds for folks when we go out, but this prize will create a brighter future for our kids. That's what's important." he added.
Get your own winning ticket on

Lottery24