All You Need to Know about EuroJackpot
A lot has been written about EuroMillions and American lotteries such as Mega Millions and Powerball. However, there is also the EuroJackpot lottery that could make you a multi-millionaire.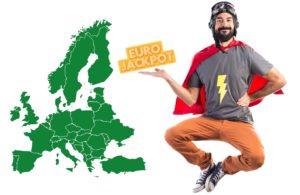 Earlier this month, one lucky ticket won a €63 million EuroJackpot top prize. How much do you know about this lottery, tickets for which can be purchase on this Lottery24 site?
It was nine years ago this month that the EuroJackpot lottery was launched. There are currently 18 countries that play this lottery. The list includes Italy, Germany, the Netherlands, Spain and Finland. But don't worry, you can still buy tickets on this site.
Put Friday in your Diary
The EuroJackpot draw is held every Friday at 19.00 GMT. The minimum jackpot in this draw is €10 million and draws are held every Friday. The jackpot keeps on rising until it gets to the cap of €90 million. When that happens, the second-tier prize will grow higher and higher, so even more great prizes can be won.
How do you win the jackpot? Well, you need to choose five numbers from the range 1-50. Then, select two more from the EuroNumbers, 1-10. Matching all seven numbers will see you working how to spend your jackpot win. The odds of winning a prize in EuroJackpot is 1:26, compared to 1:21 in EuroMillions.
Choosing a main number that is over 31 can increase your hopes of winning. Those players using birthdays and anniversaries will have no hope of a jackpot win, if numbers higher than 31 are drawn. If you do use numbers 1-31, then a win may end up being shared with others using birthdays and anniversaries.
Lots of Prizes to be Won
There are 12 tiers in all, so plenty of opportunities to win a prize. Even the 12th and final tier sees you winning €7. The second-tier prize is regularly over the half a million euros mark. The €90 million jackpot has been won on seven occasions.
You can see therefore that EuroJackpot is an exciting lottery to play. There are some great prizes to be won, so make your selections for every Friday draw.
Buy EuroJackpot tickets from Lottery24.