Another Set for Life lottery winner bought their ticket online
A lottery winner is set for life thanks to a recent win. Following in the footsteps of other recent winners, they will receive £10,000 every month for the next 30 years.
Despite being Set for Life, she'll keep on working.
Vicky Mitchell, a mother of two from Halifax, England, has low key plans for her winnings. She said that she has no intention of quitting her job, but that she does hope to buy a new car.[caption id="attachment_16013" align="aligncenter" width="680"]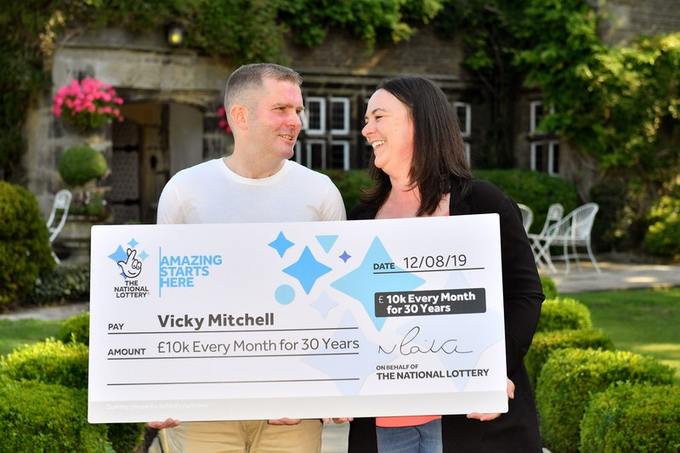 Vicky Mitchell celebrates with her partner. (
ITV
)[/caption]Together with her partner of 18 years, Adam Fry, the lottery winner is set for life, or at least until she retires.The couple currently have no plans to marry despite the tax-free monthly salary worth £10,000.She is the third recent winner to go public with her win, and all three bought their tickets online.Previously, Amazon worker
Dean Weymes
had won the jackpot, and father-of-one
Sam Lawton
won £10,000 every month for the next 12 months.
Sticking to caravan holiday plans
They are even planning to stick to their existing summer plans next year – a caravan holiday in Skegness."You can't beat a caravan holiday with the kids. They love it. We've already booked for next year," stated the ecstatic winner.The lottery winner did concede that she plans to travel more with her winnings, with some European city breaks on the cards. Otherwise, the Set for Life jackpot prize will help provide financial security for her and her family.
The winnings will make keeping track of finances easier
Ms Mitchell currently works as an admin assistant at an accountancy firm. As her current salary is less than £30,000 per year, the additional £120,000 tax free pey year will certainly help out.The couple, who have two sons aged 8 and 19, keep track of finances on a three-month rolling spreadsheet. Now, thanks to the lottery winnings, Mr Fry said that they'll be able to pay off some debts, but he'll keep using the spreadsheet.Other plans for the winnings include a deposit for a bigger house, and celebrations with a pre-booked holiday in Ibiza.