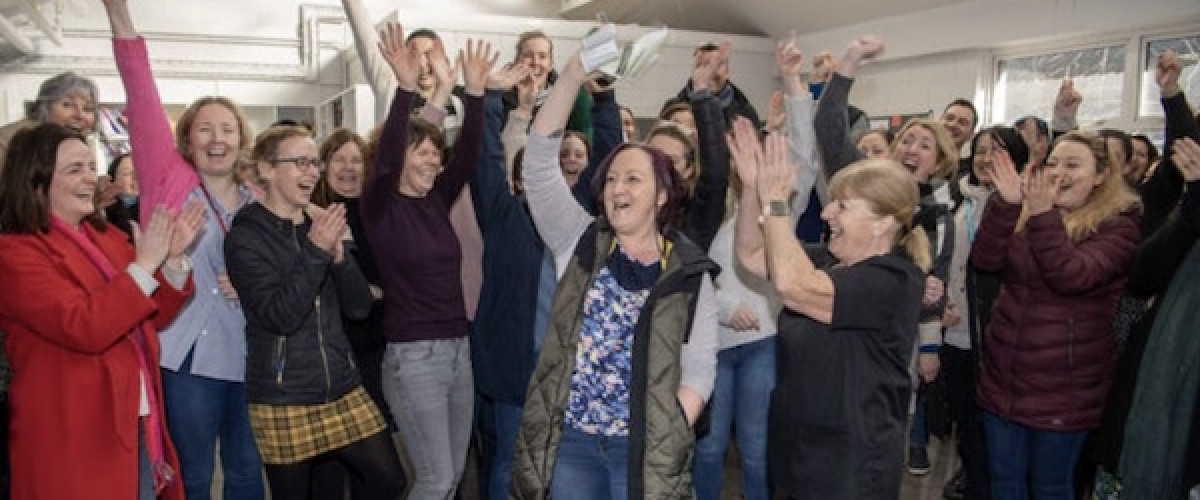 Back to news
€500,000 EuroMillions Win Tinged with Sadness
Joining a syndicate improves your chances of winning a big lottery prize. Just ask 64 players in East Cork, Ireland, who have banded together to win a €500,000 EuroMillions prize in the January 17 draw,
The syndicate members work for the St Colman's Community College in Midleton, Co Cork. Their EuroMillions win isn't just a financial boost for the syndicate. It's also a highly emotional one for all the members. They had purchased their winning ticket in memory of a staff member who sadly died last November.
Rebecca Walsh, who works as an administrator at the school, has been the leader of the syndicate for over six years. When checking the EuroMillions results, she knew that a big prize had been won but the lottery offices weren't open yet. That led to an anxious wait to get confirmation of their success.
The screaming begins
Therefore, Rebecca went to work and then at 9.15 am contacted the National Lottery from the school office, surrounded by syndicate members. Their €500,000 win was confirmed and the screaming began.
Each of the EuroMillions syndicate members will receive just under €7,812.50 but the celebrations couldn't last for long as they had to return to their teaching duties.
Fond memories
Their thoughts have turned to their late colleague and syndicate member, Maeve Barry. Particularly her sister Carmel who was one of the winners. Maeve died two months ago and January 14 was going to be her turn to purchase €35 worth of tickets for the EuroMillions draw, Instead, Rebecca took over her duties and they won €500,000. 
The emotional syndicate leader said "There are 64 of us today who are thanking Maeve, God love her."  Rebecca added: "the money is not relevant. It's the story behind it. We needed this lift." 
"The town needed this bit of good news. There are 64 of us absolutely buzzing around St Colman's here today. We do believe that it was Maeve looking down on us. She was definitely looking out for us."
Get your tickets today from Lottery24.