First-Time Lottery Winner Accidentally Lands Higher Powerball Prize
Some people wait for ages for success in the Powerball. Not so Michael Fought from Oregon, USA. He became a first-time lottery winner when scooping $150,000 in the draw held on March 23.[caption id="attachment_13686" align="aligncenter" width="700"]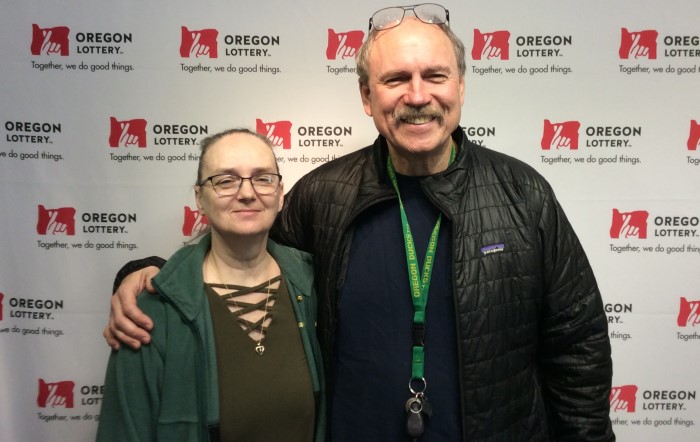 Mike and Ronda Fought collect their prize from Oregon Lottery[/caption]Michael and his wife were on a road trip with their travel trailer when they decided to stop off to buy some Powerball tickets. They headed to the Food for Less store in Medford and a chain of events began that led to Michael
becoming
a first-time lottery winner.
Not a Clue
The soon-to-be Powerball winner was asked which ticket he wanted to buy. Michael admits that because of his inexperience at buying lottery tickets "I had no clue what she was talking about."A statement from the Oregon Lottery joked that as a former public works director, "Michael Fought can tell you the Ph of municipal wastewater" but when it comes to how the Powerball draw, he's no expert. He decided to opt for the more expensive purchase, and it was a decision that paid off.The numbers that came out in the March 23 drawing were 24-25-52-60-66 and the Powerball was 05. Luckily, his ticket matched four of the main numbers and the Powerball to win a total of $150,000."My wife and I were excited, elated, giddy and soooo happy!" said the first-time lottery winner. How will he spend his $150,000 Powerball prize? The delighted winner said: "We feel so blessed that we were able to pay off some major bills as a result of the win." Michael also wants to make some minor upgrades to his motorcycle.
Double Your Money
He's not the only player to
accidentally win a higher lottery prize
recently. A player in Australia won an AU$46.6m jackpot in the March 26 Oz Lotto. He thought his win was only AU$23.3m but was shocked when discovering he'd accidentally purchased two winning tickets for the same draw.