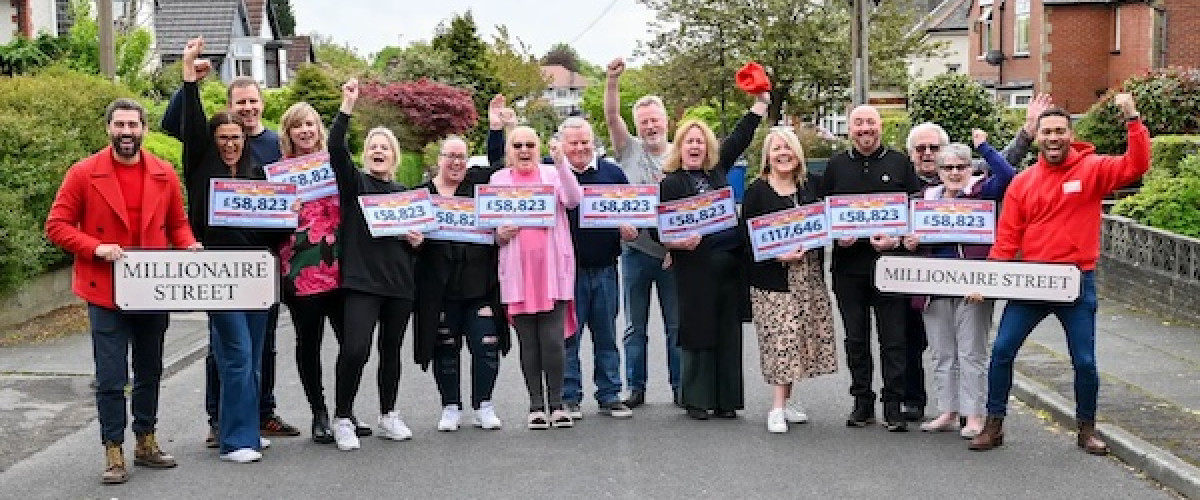 Back to news
Historic Postcode Lottery Win for Prestwich Family
History has been made in the Postcode Lottery. For the first time every member of a household won a top prize. Even more reason for celebrations in the town of Prestwich in Greater Manchester, England.
Off to the Algarve
The historic win saw both parents and their two daughters, Jo and Fran each win £58,823. It was Jo who had first started buying Postcode Lottery tickets ten years ago. Then she persuaded her brother and parents, Marilyn and John to also join in.
With their big Postcode Lottery wins, the family want to revamp the house they have lived in for 37 years. A holiday at a private villa in the Algarve is also on their spending list.
John is a big Elvis fan and joked: "My favourite Elvis song is 'The Wonder of You' but I'm 'All Shook Up' now." His wife and son just wanted a cup of tea to calm her nerves.
A total of 15 players won at least £58,823 in the Postcode Lottery draw. However, Myra had two tickets so she won £117,646. The lucky winner has been struggling to keep going so her husband died. Now her winnings will be used to renovate her house. A dream holiday in Thailand is also planned.
Time for champagne
One of the £58,823 winners is Cassandra who said her win felt "so surreal." The mother-of-two had some champagne in the fridge saved for a special occasion. "What better occasion than this" said the Postcode Lottery winner.
Her first family overseas holiday in over six years is on its way. Their two sons can decide where they go. "Anywhere that's sunny. Who knows where they'll choose,"their mother joked,
New campervan please
Ruth is also getting advice on how to spend her Postcode Lottery winnings. Her Volkswagen T25 camper van has definitely seen better days.Now Ruth's neighbours are telling her she can afford a new one now.
Also on her spending list is a new sofa and toys for their poodle Jack. Helping her children buy houses is also planned,
Get your tickets from Lottery24