Lottery millionaire goes back to work 20 years on
A lottery millionaire from Grimsby, England has gone back to work, 20 years after winning the jackpot as he got bored.
Luxury lottery lifestyle
Roy Gibney was the first Lottery winner to come out of Grimsby when he
took home
£7.5 million on the UK Lotto 20 years ago. The lottery millionaire went on to spend his winnings on a Lexus with a personalised number plate. He also purchased a mansion and got his winning numbers inscribed into the floor of the swimming pool. He also instantly quit his job as a sheet metal worker following the win.[caption id="attachment_10524" align="aligncenter" width="615"]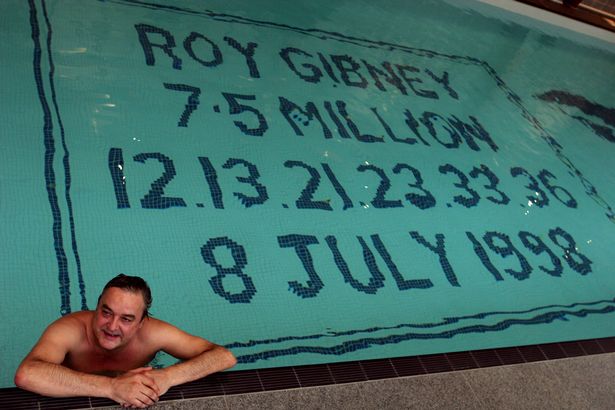 Lottery millionaire Roy Gibney enjoying his personalised swimming pool[/caption]The lucky lottery winner revealed that despite his good luck his life wasn't more enjoyable.  "When I won, I enjoyed all the luxuries you would expect," he told the local press in Grimsby, where he stayed since his win. "I gave up work for 14 years, but I got bored."
Happier than ever
The lottery millionaire has since started his own business in the sheet metal industry. He sometimes works 12 hour shifts despite not needing to. "I'm fitter and happier than I've been for years," he said.He has recently sold his mansion for £1.1 million and moved from his hometown to Scotland, with his partner and their youngest son. "Nowadays, I don't indulge myself quite as much as I used to but still enjoy the carefree life winning has given me."Despite not living quite as luxurious a life as he did 20 years ago, the winner does have homes in Britain and Cyprus. He is fortunate enough to split his time between them both. Meanwhile he continues to give money to charity and contributes his time for local good causes. He even dresses up as Santa for the local children at Christmas.
What you would do when you win the lottery with Lottery24?