News of Lottery Windfall Wasn't an April Fool's Prank
A recent €1m Irish Lotto winner told his father of his Lottery windfall who thought it was an April Fools' Day prank. His father had initially bought the ticket before giving it to his son. To pick-up his Lottery windfall, Odhrán Doherty
arrived
at Lottery headquarters in a stretch Hummer.[caption id="attachment_13022" align="aligncenter" width="620"]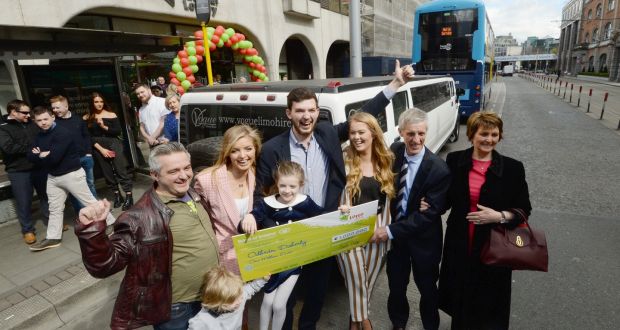 Odhrán Doherty with his family at Lottery headquarters[/caption]
A Gift from his Father
His big win came in the draw held on Saturday, March 30 with his lucky ticket purchased by his father from Barclay's Newsagents in Raphoe. He'd wanted some bread and milk, they had neither, so he bought three lottery tickets instead. One was for himself, the others for his wife and son and let them choose which tickets they wanted.Odhrán was on his way to a party when finding out his ticket was a winner. He wanted to celebrate with a pint, but his credit card wouldn't work. Initially, he thought he'd just won a couple of thousand euros but then discovered his €1m win.
Are You Joking?
He contacted his father, who when told of his son's big win thought it was an early April Fool's prank. His father, Liam, is "delighted" for his son and joked that previously, "he was always looking for money off me!" The win proved to be a bit painful for his mother, Margaret. She's got a pain in her neck due to "all the hugs" her son has given her.
New Tractor on its Way
The lottery winner already has plans on how to spend his €1m windfall who works as a sheep-farmer. They include a new tractor and a silage machine. The lucky winner has no intention of quitting his job and said he'd back at work tomorrow as it's lambing season. When that ends, he wants to go on a skiing holiday.Whatever happens, he won't let his €1m windfall go to his head, saying that his family will "keep me right." He'll get some good advice as two of his family works in the legal industry.It's the second big winning ticket sold by Barclay's Newsagents after a recent €500,000 EuroMillions Plus ticket was purchased from the store.
Grab your own Lottery windfall by playing on

Lottery24