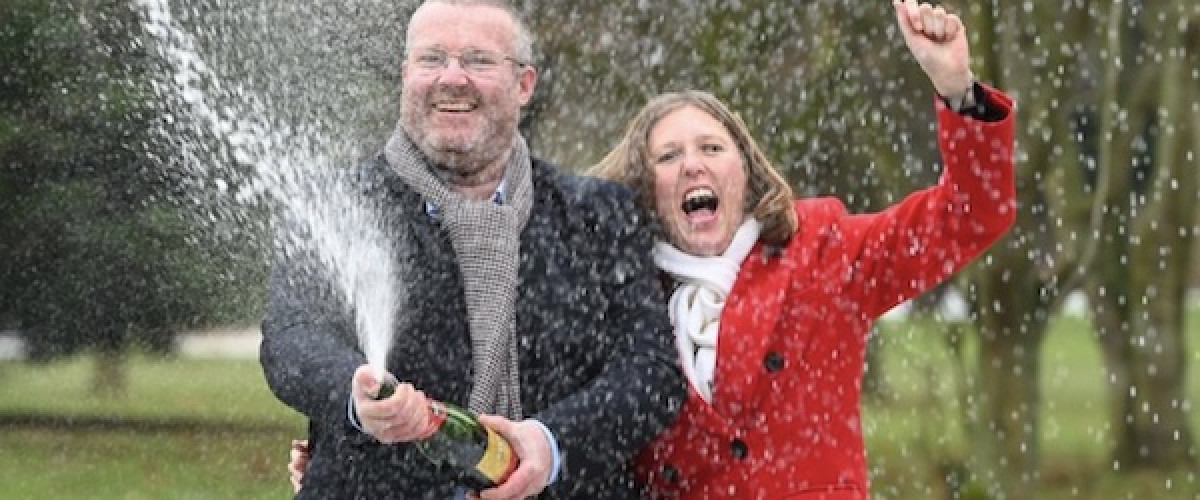 Back to news
15-Year Wait for Wedding Will End after £1m EuroMillions Win
Ellie Land and Karl Ward from Norwich in Norfolk, England, have been engaged for 15 years. Now they can finally get married thanks to a £1 million EuroMillions win in the November 4 draw.
The couple have been together for 20 years and have two children. Last month saw Ellie, 41, pop into the Asda Supermarket where she works. Her intention was just to buy some bread and milk but those plans soon changed. The supermarket worker needed to go to the bathroom and that just happened to be right by the National Lottery counter. 
Spent a penny
Never did Ellie imagine her EuroMillions ticket would win her £1 million. Recalling the way in which a trip to the bathroom helped her, she joked: "I spent a penny and won a million."
Their EuroMillions win was discovered on the Sunday after the draw while they were watching television with their two children. Ellie checked the results on the National Lottery app and saw that there was a message congratulating her on winning £1 million. She swiftly showed the message to her partner and they just sat there in stunned silence.
The couple had to wait until the following morning to claim their winnings. Needless to say, the couple had a rather sleepless night before doing so.
Ellie made the call to Camelot on Monday morning but did so quickly as she didn't want to be late for work.
The couple are also planning on using their EuroMillions winnings to buy a bungalow after renting for the past couple of decades. Their children are also going to be treated with a PS5 for their son and a trip to Disneyland for their daughter.
No plans to quit work
There are no plans to quit work. Karl has been working a night shift for the past six years but loves his job as a forklift truck driver. Some time may be taken off though for a trip to France as they'd love to go wine-tasting in the vineyards. 
Buy tickets today from Lottery24.