Bride Driven to Her Wedding by UK Lotto Millionaire
All brides would love a dream wedding but Erika Witheridge-Towers from Truro in Cornwall, England thought that might never happen. However, her dreams have come true thanks to lottery winner Peter Congdon.
The ongoing pandemic had caused Erika to cancel her wedding to Aaron not once but four times. The original plan was for the marriage to take place in May 2020. After one postponement after another, it looked like the wedding would take place in May next year. Then the plans changed again as the number of guests allowed to attend a wedding was being halved to 15.
Dream Ride to the Wedding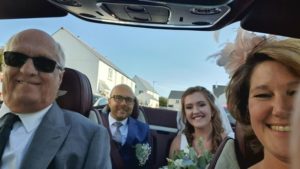 Fed up with the delays, she decided to downgrade her celebration and organised it in just four days. There was to be no glamorous car to take her to the church, instead her father's old Audi was going to be used.
Well that was her plan but imagine her shock, when instead a red Bentley Continental Convertible turned up outside her house. This was no ordinary Bentley; it was one driven by a lottery millionaire.
Peter Congdon won a £13 million UK Lotto jackpot five years ago and had been contacted by Erika's friend Emma. She had heard stories about the UK Lotto winners generosity since his big win.
Incredible Moment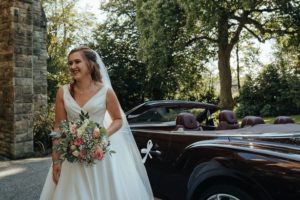 The shocked bride said: "I couldn't believe my eyes when I stepped outside in my wedding dress to see Peter and his Bentley. It was such an incredible moment." That was just the start of her day as the roof was down as the car went through the city centre. "People all along the way were stopping to clap and wish me well. Honestly, I felt like Kate Middleton!"
Peter wasn't finished yet though. He offered to wait outside the Alverton Hotel in Truro, so they could have photos taken with it after the service. Peter, 73, said: "I jumped at the chance to do something special for Erika and Aaron on their wedding day, hopefully it will be a day that they look back on for many, many years to come."
Try your luck and purchase your tickets online at Lottery24 >