His wife ironed his lottery ticket but the lucky lottery player still collected his winnings
A lucky lottery player from Northern Ireland has claimed a lottery prize despite his ticket being ruined. The lucky man's ticket was in his pocket when his wife ironed his trousers.[caption id="attachment_15661" align="aligncenter" width="556"]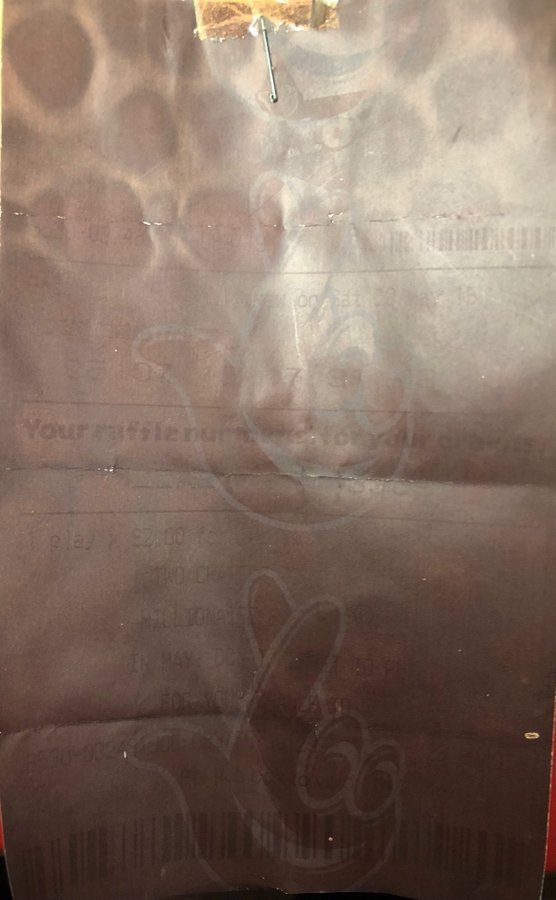 The lottery ticket was accidentally ironed by the winner's wife. (Source:
The Sun
)[/caption]
Winning ticket couldn't be confirmed
The ticket was blackened when he took it back to Diamond's newsagent in Ballymena, where he'd purchased it from. The lottery machine couldn't read the damaged ticket, which was worth £30.Fortunately, however, the store owner Eugene Diamond, 61, was able to read the numbers. With the help of a staff member who held the ticket to the light to read the numbers.After confirming the numbers, the newsagent agreed to payout. The unnamed lottery player was able to claim his winnings and carry on with his day.
The winner wanted to keep it safe in his pocket
Mr Diamond explained that his customer had left the ticket in his pocket because he knew it was worth a few pounds. "His wife gave the trousers a quick press, but sadly he forgot about his ticket."The newsagent said that it was a good job that the lucky lottery player's wife hadn't washed the trousers as well! "It could have been a different story."
Almost missed out on his cash
The experienced lottery retailer said that the customer thought he'd missed out on his prize. Staff members weren't going to let him go without if they could help it."I'm more than happy when people win," he said, "It pays to show local support and go that extra mile."The Lotto winner was a man in his 30s who is a regular customer at Diamond's newsagents. The store is no stranger to big wins, as it sold a scratch card worth £300,000 in 2017.
Keep your lottery tickets safe when you play online with

Lottery24