Lottery Winning Streak For Canadian Family
A Canadian family has managed to beat the odds twice in two years. Their lottery winning streak has bagged them millions.Giuseppa Lanteri and Nunzio Lanteri from Quebec scooped their latest win on Monday. They claimed the
Lotto MAX jackpot
worth CA$65m in the latest high payout from the game.
Canadian family can't stop winning
The top prize had been growing over the last few weeks before the Lanteri family took it down.[caption id="attachment_15090" align="aligncenter" width="512"]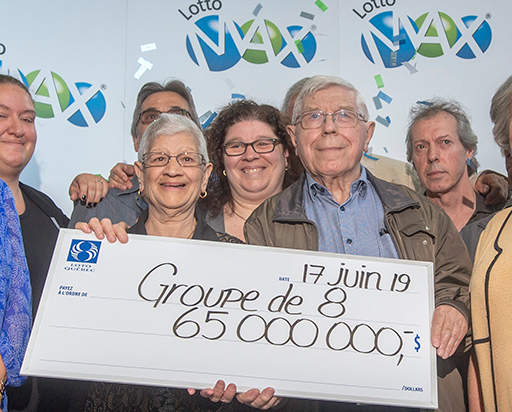 The Lanteri family collecting their big win[/caption]Lotto MAX and Lotto 6/49 are the most popular lottery games in Canada. They have huge main prizes thanks to the rollovers that can go on for several weeks.Because winning seems to come easy to the pair, they waited a full week to claim their prize.Loto-Quebec were left none-the-wiser as they advised players to check their homes and cars for lost tickets. They hoped that someone would come forward and claim the prize.Giuseppa and Nunzio had matched all seven numbers from the draw. They kept their ticket guarded after buying it from the Ville Emard convenience store. Store owner Martine Guerin will receive a one percent share for selling the ticket.
Fun for all the family
The couple will split their jackpot with their two children Jane and Salvatore Lanteri. Four other family members will also get a slice of their luck.They have many plans, but top of the list are holidays in Italy and Mauritius. It's safe to say that they will be traveling in style, and staying in luxury hotels.This latest win will help swell their bank balance, after all it has been two years since a CA$1 million win thanks to the Extra draw. Back then, they were only able to share that win with their kids.It is not the first case of a player being on a lottery winning streak. A North Carolina resident won $1 million for
two years running
.