New Home for £100k EuroMillions Winner
Laura Hatch from Louth in Lincolnshire, England had just found out her boyfriend had won £3 in the February 5 EuroMillions draw. A much larger win was discovered minutes later as Laura had won £100,576.20 in the same draw. Now she can put a deposit on her dream home.

The day after the draw, Laura was still in bed and her partner Chris checked the results of the Feb 5 draw. He was pleased at a £3 win and told Laura the news. His girlfriend had bought two EuroMillions Lucky Dip tickets so thought she'd see if they had won anything.
A slightly larger win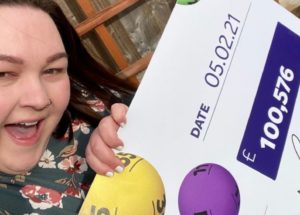 A National Lottery notification had been received. However, Laura initially thought she'd also won £3 but was in for the surprise of her life. "My eyes were really tired, and I couldn't see clearly what was in front of me." Laura asked Chris to check the message and "he just burst out with 'you have won £100k!'"
Laura is a graphic designer and web content manager was in total shock at the news. She said that "something like this wouldn't happen to us!" but it had. The couple just sat staring at each other in disbelief.
Gob-smacked
"I was totally gob-smacked – there are no other words for it!" said the delighted but shocked EuroMillions winner. It was only when Camelot had confirmed her win that she finally believed she'd won £100k. How would she have felt if matching the other Lucky Star and winning the £114 million jackpot?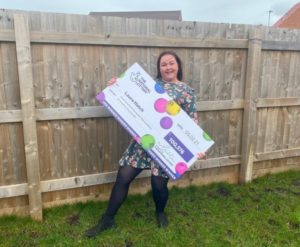 Big Plans for Winnings
Now Laura plans to use her winnings to buy a house with a garage and a garden. "How many 27-year-olds can say they have enough money to put a deposit on a house?" said the EuroMillions winner Her boyfriend wants a motorbike and when possible, the couple will go on a dream holiday.
Laura added; "This win really is a life-changer for us. All of those things I have dreamed about can now become a reality." Now the pair can't wait to make "some very special memories together." No mention of a wedding but Laura says she will continue to play lotteries, so another win might pay for that.
Get your tickets today from Lottery24