Ontario Lotto 649 winner is rich but decides to keep working
An Ontario Lotto 649 winner is to keep working. The lucky winner said he'll continue at his job until September despite winning $11 million.[caption id="attachment_13077" align="aligncenter" width="630"]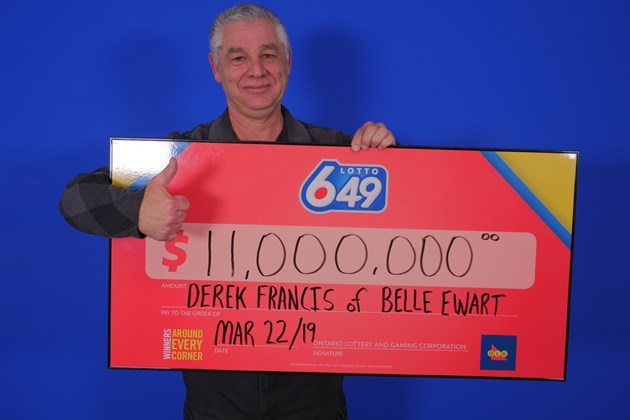 Derek Francis as he collected his winnings[/caption]Derek Francis, from Belle Ewart, won his $11 million on March 20. He was the
only
top prize winner in the Lotto 649 draw. "This is my first major win!" the lucky man said.
Committed to his job even as a millionaire
Mr Francis works at a coffee company in his local area. He found out about his win on his way into work. Despite becoming a millionaire on his commute, the Ontario Lotto 649 winner still went in for his shift."I didn't believe it, even after I looked at all the numbers and saw they all matched," he said. Mr Francis is a father of three and grandfather of five. He plans to use his winnings to help his family.
The winnings will help his family, but only if they work for it
He won't just give the money away, however. "I'll put aside some of my winnings for family college funds," he explained. "My kids will have to go to school if they want some of the money."Otherwise, the Ontario Lotto 649 winner plans to buy a camping trailer and take a cruise to Alaska. Not until after September, however. "I'm still going to work until September," he said.
Lotto 649 has brought him freedom
"It feels like I'm free – it's such a sensation." The lucky winner also plans to invest his cash although he didn't elaborate on how.Mr Francis collected his winnings from lottery headquarters in Toronto. The 57-year-old said that despite this being his first major win, he did take home $1,900 on Lotto 649 years ago.
Make your own luck by winning with

Lottery24