Scottish EuroMillions winners to put fortune back into the community
Scottish EuroMillions winners are to set up their own charitable trust after winning £58 million. The couple hopes to
change
the lives of others with their good fortune.[caption id="attachment_12742" align="aligncenter" width="620"]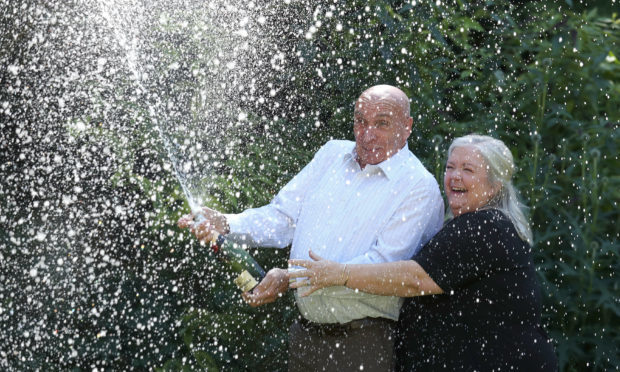 Fred, 67, and Lesley Higgins, 57, from Laurencekirk, Aberdeenshire celebrate winning[/caption]Fred and Lesley Higgins from Laurencekirk won £58 million on the EuroMillions. Their jackpot win came on July 10, 2019. They now plan to use their millions to help those less fortunate.
Using the EuroMillions winnings for good
Mrs Higgins said that the couple is meeting with lawyers to discuss setting up their trust. They plan to support small and local charities. "We've helped a few causes out in Laurencekirk," the winner said. "We've got our eye on a couple more."Mr Higgins is keen to focus on support for young people. "Anything between five and 25. It's a difficult time of life," he explained. He also expressed his desire to help the Air Ambulance Service.The Scottish EuroMillions winners became 14th on the National Lottery rich list when they won the EuroMillions jackpot. At the time they talked about buying property in Barbados. So far, they've spent their cash on a penthouse flat in Dundee. They still predominantly live in the same home in Laurencekirk.
Scottish EuroMillions winners remain down to earth
The couple said they won't let their win go to their heads. They plan to remain as down to earth as possible. To prove it, they still use their Tesco Clubcard and pick up discounts wherever possible.Mr Higgins had already retired when they won big. Mrs Higgins has now quit as well. They'll be able to put more time into their charitable foundation.
Play the EuroMillions today with

Lottery24