Surprise EuroMillions win after buying a Lucky Dip ticket
It was a surprise EuroMillions win for Paul Trollope recently. A last-minute Lucky Dip ticket lined his pockets with £1 million.[caption id="attachment_12941" align="aligncenter" width="884"]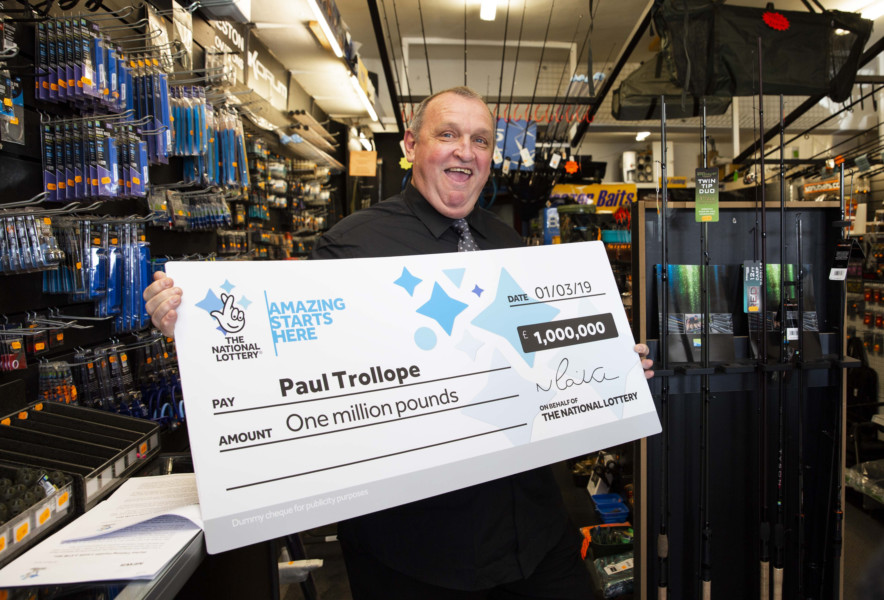 Paul Trollope from Horley celebrates his one million pound win. Image: Crawley Observer[/caption]Paul Trollope, from Horley, England, stopped off at a Tesco Express store to buy a few bits of shopping. While there, he
decided
to buy a couple of Lucky Dips for that night's EuroMillions draw.
Forgotten tickets
The 61-year-old put his tickets on his car dashboard. Then he promptly forgot all about them. The lucky winner said that he didn't have time to think about the lottery."I had a busy weekend, doing errands, a spot of fishing and what not, jumping in and out of the van," he said. The lottery winner is a keen angler.In hindsight, he can't believe a £1 million EuroMillions ticket was on the dashboard the whole time. "It makes me shudder," he exclaimed.
A EuroMillions surprise after a busy weekend
On Monday, Mr Trollope took his tickets to a local shop. He asked the assistant to check his tickets. The store clerk handed over a piece of paper and said, "You'd better call Camelot."The father of three expected there to be a problem with his ticket. He had no idea that his life was about to change with a surprise EuroMillions win."I jumped in the van and called Camelot," he recalled. The lottery official asked if he was sitting down and then told Mr Trollope that he was a millionaire.
A life-changing discovery
"It was the most surreal situation," he said. But he wasted no time in sharing the news with family and friends.With the money now in the bank, the surprise EuroMillions winner doesn't plan to stop working. He has bought a 34-foot Winnebago to add some luxury into his fishing trips. "I think I'd get itchy feet just sitting at home," he explained.
Enjoy your own surprise EuroMillions win by playing with

Lottery24

.