Win the lottery and see the Christmas Traditions
It's been a year like no other, but Christmas is on its way and those Christmas traditions will continue. All over the world, each continent celebrates Christmas in its own special way. If a big lottery win comes your way, you can see for yourself the magic of Christmas.
Asia - The Giant Lantern Festival in the Philippines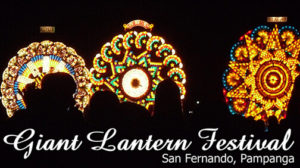 We all want to put a bit of sparkle into our Christmas, don't we? If this month sees you get a fantastic lottery win, you could go to the Philippines to see their incredible Giant Lantern Festival.
This is held in the city of San Fernando on the Saturday before Christmas Eve, so that's the 19th this year. If you want a festive celebration, then this is the place to go. After all, it is known as the 'Christmas Capital of the Philippines.'
11 villages try their hardest to put on the best show. It seems that every year the giant lanterns (up to six metres in diameter) become more and more spectacular with their stunning patterns.
Europe - Krampus in Austria
There are so many different ways to celebrate Christmas and in Austria, it's all a bit scary. You might think that a horrifying beast-like demon is a Halloween visitor that has stayed a bit longer than intended. In fact, this is Krampus, who is the evil half demon-half goat assistant of St. Nicholas.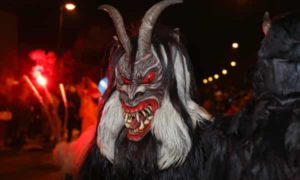 The Austrian tradition is that St. Nicholas will give presents to those children who have behaved all year. Those who haven't are in big trouble on December 5 as Krampus scares children with bells and chains and then whisk them away in his sack.
The following day it's the Feast of St. Nicholas, something not to be missed. Just think, a lottery win this week could see you heading to Austria to see this spectacular event.
North America – Deck the Chairs at Jacksonville Beach, USA
There are many Christmas traditions that include snow but not in Florida, USA. Instead, ev
eryone heads down to the Jacksonville Beach for a holiday lights celebration.
We all love to decorate our Christmas trees but it's all a bit different in the Deck the Chairs festival. Instead, it's the red lifeguard chairs of the American Red Cross that are given the festive treatment. Buy a lottery ticket from this site and who knows, you could see all the amazing decorations for yourselves. You might get a nice tan at the same time!
South America – Time for some Roller Skating
In Venezuela, it's a bit more of an active Christmas tradition. On Christmas Eve, it's time to go to church in Caracas but how do you get there? It's not a gentle walk or a ride on local public transport. Instead, it's time to get your roller skates out!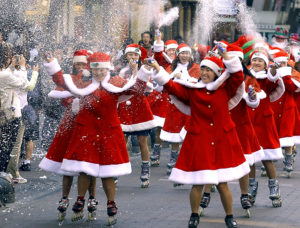 This Christmas tradition sees the roads in the city closed so everyone can safely skate their way to church. After a traditional service, the congregation then go home and tuck into a Christmas meal.
It's not turkey or a Christmas pudding but 'tamales.' This is a tasty wrap that is filled with meat and finishes off a great day. Hopefully your lottery numbers will come up this month and you can buy some roller skates and head off to Venezuela.
Buy some tickets today from Lottery24.