Wisconsin Powerball winner feels like he's dreaming
The Wisconsin Powerball winner of a jackpot worth $768 million has come forward. The winner says he's stunned and feels like he's in a dream.[caption id="attachment_13626" align="aligncenter" width="692"]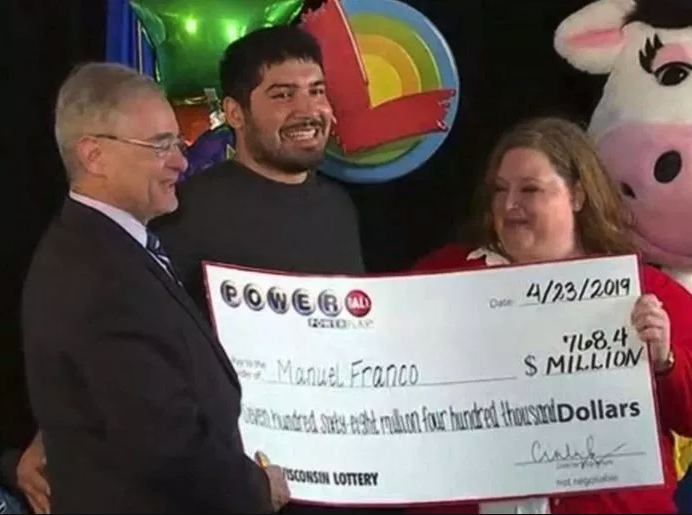 Manuel Franco collecting his winnings[/caption]Manuel Franco was revealed as the lucky winner this week. The drawing took place on March 27. His $768 million jackpot prize is the third largest lottery prize in US history.
He had a lucky feeling
Mr Franco, from Wisconsin in mid-west USA, said he felt lucky when he bought his ticket. He bought his Powerball ticket after work because he'd had the feeling all day."It's a weird feeling, not natural at all," the 24-year-old explained. After the drawing took place, the lucky man checked his ticket.
Wisconsin Powerball winner in complete disbelief
"I looked at the first number, I saw the second number and my heart started to pump," the Wisconsin Powerball winner recalled. "I'm like, 'No fricking way'." Mr Franco's Powerball ticket had matched all six numbers."It feels like a dream," the new millionaire said. He added that his heart was racing, and he found himself screaming for several minutes. "My dad cried a lot."Accepting his prize from Wisconsin Lottery headquarters, Mr Franco took a $326 million post-tax lump sum. During the last month, he has hired financial and legal advisors to help him spend wisely.
Read more:What to do when you win the Lottery
No lavish spending plans for this Wisconsin Powerball winner
Despite playing the Powerball since his 18th birthday, the Wisconsin man has no plans to play again. "I'm sure you'll never see me as like one of the people who went bankrupt or broke or anything like that," he said.The winner wants to keep his life as normal as possible. He hasn't returned to work, but he doesn't have any big plans for the future. He only said that he wants to "help the world."
Be the next big Powerball winner with

Lottery24