EuroMillions Windfall Remained a Secret for Five Weeks
Paula Williamson from Barnsley in Yorkshire kept the celebrations of her fantastic £1m EuroMillions windfall in March on ice for five weeks. She
delayed
telling her two sons the great news until the family was all together.[caption id="attachment_13506" align="aligncenter" width="660"]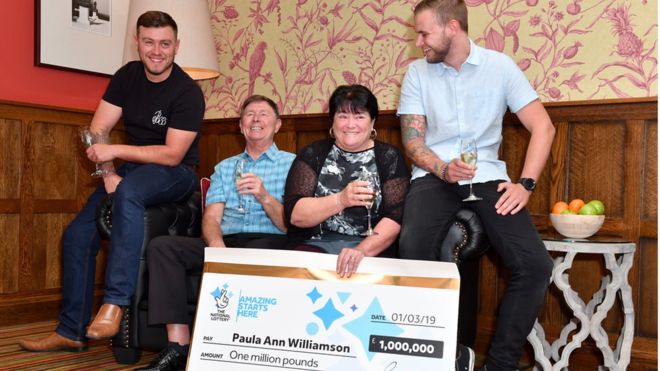 Paula Williamson and her family[/caption]
Celebration on Hold
She told her husband Geoff the amazing news but not her children. Her son Jack was on holiday in Australia at the time of her fantastic EuroMillions windfall. Her other son Ian was at home, but Paula kept the news from him. The couple wanted to "be together as a family to share the celebratory moment."
A Week in her Purse
Her big win came in the March 1 EuroMillions draw. Her winning ticket had been in her purse for more than a week before being checked. When told it couldn't be paid out as it'd won more than £500, she thought she'd won around £550. That would pay the deposit on the three-piece suite she wanted to buy. She phoned Camelot and couldn't believe it when told she'd won £1m."I cannot believe I was walking around for a whole week with £1 million in my purse while desperately saving for the new three-piece," joked the EuroMillions winner.
Plenty of Spending Plans
The couple plan on using their fantastic £1m EuroMillions windfall to buy a new Skoda car and of course that three-piece suite. Most importantly, their win "takes away any money worries and gives us so many options and opportunities," said 59-year-old Paula.It's great news for their sons, who currently live with them as their parents intend buying them houses. Also receiving some treats are their five grandchildren.
Get your own EuroMillions windfall on

Lottery24