Janitor Wins Lottery but Says He Won't Quit His Job
A Canadian janitor who won a jackpot of $5 million ($7 million CAD) on the British Columbia lottery says he has no plans of leaving his job.[caption id="attachment_14629" align="aligncenter" width="780"]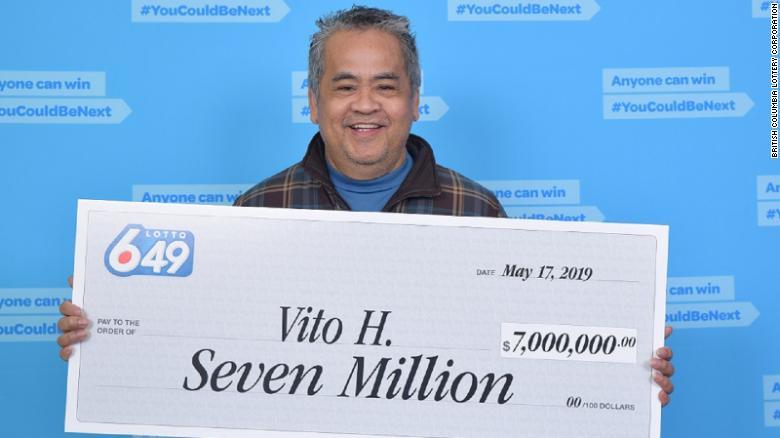 Vito Halasan collects his winnings[/caption]Vito Halasan, 58, matched all six numbers on April 27 to scoop the top prize. Upon seeing that he was the lucky lottery winner, Mr. Halasan told media outlets that he initially struggled to confirm the news as he panicked at the life-changing realisation.
Double check your tickets
After telling his family of the surprise win, the janitor's loved ones didn't believe him and proceeded to check the ticket dozens of times online.His daughter said: "He sat me down at the table and then whispered really quietly to me that he had won $7 million."Upon realising that that Mr. Halasan was in fact a lottery winner, the entire family rejoiced at the news.Since the victory, the janitor has said that he will buy a house for his three children and four grandchildren.After moving his family to Canada from the Philippines in 2009, Mr. Halasan will now be able to give his family the dream life they had always hoped for as a lottery winner.
A life changing amount
An ecstatic Mr. Halasan was awarded his cheque for $5 million ($7 million CAD) on May 17th, where he spoke to the attending media.The new millionaire lottery winner will not be giving up his day job though. Mr. Halasan stated that he will not be quitting his role as a janitor, but will scale back the amount of hours he works.The lucky lottery winner said that he had always bought lottery tickets because they enabled him to dream of a better future for himself and his family."I dream of being able to take care of my kids and make their future better" he said.Now, after this huge lottery win, that dream has become a reality.
Take your chance at a massive lottery win on

Lottery24