Lottery winner feeling for $1 million win on the Lotto 649
A British Columbia man had that lottery winner feeling when he won $1 million. The lucky player won big in the 29 June Lotto 649 drawing.
A gut feeling led to a $1 million win
Paul Hutchen, from Lumby in British Columbia on the west coast of Canada said he paid attention to a gut feeling. He said he felt that he should buy a lottery ticket while driving, so stopped at a gas station.[caption id="attachment_15269" align="aligncenter" width="720"]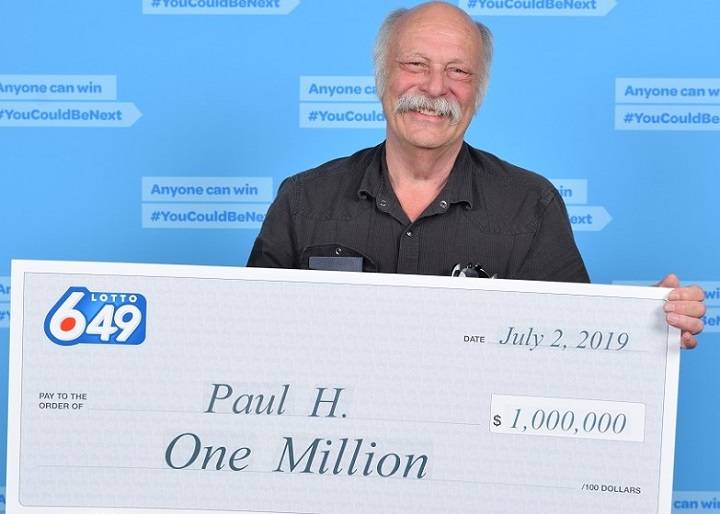 Paul Hutchen collects his winnings[/caption]There, he purchased a Lotto 649 ticket for the game's drawing on 29 June. That ticket matched all 10 numbers and won the $1 million prize.
Despite the lucky feeling, he still couldn't believe it
Mr Hutchen returned to the gas station to check his ticket after the drawing. "I stopped at the gas station, and I could not believe what I was seeing," he said.The lottery winner's feeling led him to the $1 million prize. "My friend owns the local pub, so I went there, and he ran my ticket through his machine and confirmed the win." The Canadian went on to say that he was worried he might have a heart attack!The lucky Lotto 649 winner recently moved to Lumby where his daughters live. Before that, he spent eight years living on his boat, travelling along the west coast of Canada.Mr Hutchens now plans to use his winnings to see more of the world. On his list are exotic locations including Costa Rica and Greece.Most importantly, he says, is making sure his two daughters are both set up for their future. "It will definitely let me look after them," he explained. "and help with their futures."
See if your lucky feeling pays off and play with Lottery24