UK Lotto Winners Busy Building Bird Nesting Boxes
UK Lotto winners from all over England have been helping to build bird nesting boxes. This includes some lucky winners from Hampshire.
Southampton couple Geoff and Judith Coombes won a £1 million UK Lotto prize five years ago. They visited the Eclo Eling project in Totton to install some boxes, not hard work for Mr Coombes who used to be a builder.
22 Countries Visited
The couple have had a busy time since their UK Lotto win. They have visited 22 countries in the past five years and will be off on their travels again when posible.
The lottery winner said that during the pandemic, he and his wife had been "trying to enjoy the simpler things in life." That included the birdlife seen in their garden. He loved being part of this project as "it got me out of the house and into the garage." Now he hopes the nest boxes will "provide a safe home to some of our feathered friends" and see more people visit the site.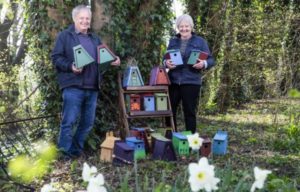 Also helping out was 63-year-old Patrick Morling from Havant. He won a £1 million prize on a UK Lotto scratchcard in 2018. Being involved in the project has kept him busy after he had retired from his job. He said that the project had kept his mind ticking over "rather than sitting around doing nothing."
Taking some time off from building the nest boxes, Mr Morling spoke about how his win has changed the life of his family: "Before the win we looked at what we couldn't do, now we look at what we can do."
There's no having to work to pay the bills. "I don't have that worry, everything is settled, money gives you peace of mind."
Not a DIY Expert
David Mackie, 38, from Basingstoke won his £1 million UK Lotto prize seven years ago. He admitted to finding the nest building a bit of a challenge, but got help from his two sons. Both were "willing to help me, or laugh at me," said the non-DIY expert.
Like many UK Lotto winners, his windfall has helped cut stress levels. He said his life is more comfortable now and he spends a lot of time running.
Make a ticket purchase at Lottery24