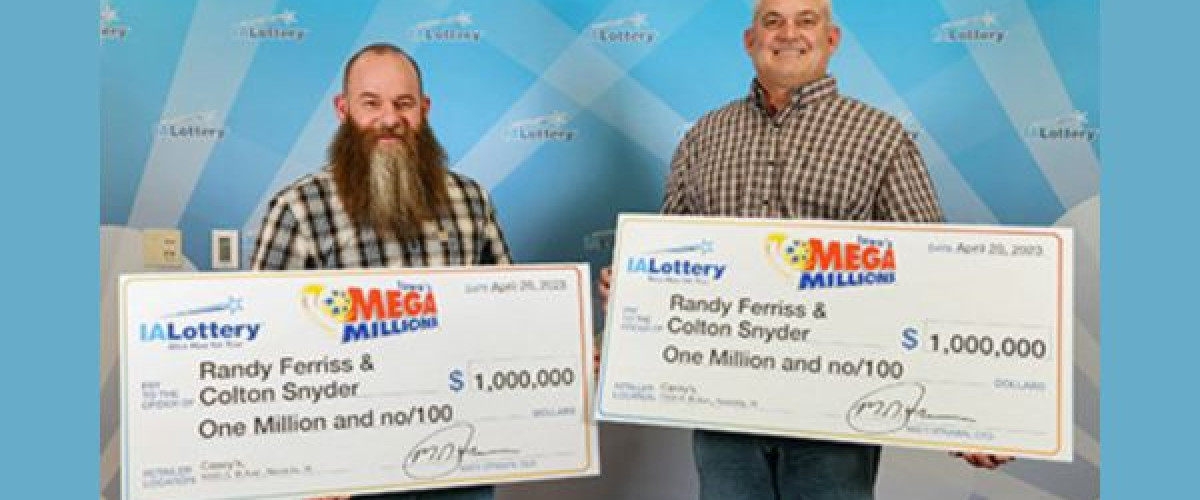 Back to news
$1m Mega Millions Win for Patient Work Colleagues
Two men from Central Iowa, USA, have shared a $1 million Mega Millions win. However, it's a win that very nearly didn't happen at all.
Keep rolling
Randy Ferriss from Nevada and Cotton Snyder, who lives in Huxley, won $1 million in the April 18 Mega Millions draw. They have been playing the lottery together for years and at one time there were more syndicate members. They left and Ferris also wanted to stop entering draws. His friend wouldn't let him do so and said that they "had to keep rolling."
Eventually their patience paid off and their big Mega Millions win happened. The friends have worked together at the US Department of Agriculture in Ames for the past 26 years.
$2 becomes $1 million
Often when smaller wins are achieved, players use them to buy more tickets. That's the case here and Snyder joked: "We turned a $2 winner into $1 million!"  His friend quickly added: "But we've been playing a long time."
Both of the lucky Mega Millions winners are aged 52. They didn't see the draw live and it was another work colleague who told them there had been a big local win. He told them that the winning ticket had been sold at Casey's in Nevada. Snyder knew that was where their tickets were purchased, could they be the winners?
His friend had their Mega Millions ticket and it hadn't been checked. Later that evening Ferris did check the ticket and they headed to Casey's to see if it had won $1 million..
It had and the following day they claimed their winnings. Time is going to be taken before they decide how to spend their Mega Millions windfall. Ferris says he's likely going to use his share to pay off his mortgage. As for Snyder, some home improvements are going to be carried out.
Another big win may be on the way. They intend to carry on playing the Mega Millions draw. However, they won't be using this win to buy more tickets. The next draw is this evening with a $150 million jackpot.